INVESTIGATION OF MEASLES OUTBREAK IN A DISTRICT OF BALOCHISTAN PROVINCE, PAKISTAN
Abstract
 Background: Measles is a communicable viral disease which is a major public health problem and a leading cause of morbidity and mortality in the developing countries including Pakistan with implications for outbreaks. An outbreak was reported from Ibrahim Khan Village of Manzari union council (UC), Pishin District by medical officer during polio campaign on 15th April 2014. A team was sent to investigate the outbreak and suggest control measures. Methods: Rapid assessment of outbreak was done by collecting data from house-to-house from April 16th–20th, 2014. Case was defined as "a person of any age, resident of village Ibrahim Khan village with non-vesicular maculopapular rash and fever along with one of the symptoms of cough, coryza and conjunctivitis from April 4th–20th,2014". Routine immunization (RI) was assessed through recall and immunization cards and BCG scars were checked. Line list was developed and data was analyzed. Results: Fifty-five cases (attack rate =11.27%) including 4 deaths (Case Fatality Rates=7.27%) were found. Mean age of children was 47 months (4-132Months). Age-group 0-5 years was most affected (n=48, 87.27%). Along-with maculopapular rash and fever. Other predominant symptoms were: coryza (n=52, 95%), conjunctivitis (n=51, 92%) and pneumonia (n=42, 77%). RI status assessment showed that none of these children had been immunized. About 56.36% of the respondents were unaware about RI, 16.36% mentioned that vaccinator had not visited their homes, 14.54% reported that health facility is far away and 12.72% reported that even if they could get access to a health facility, the vaccines were not available. Conclusion: Functionalization of EPI centre, vaccinations of all children and mass education was strongly recommended. Surveillance system for vaccine preventable diseases (VPDs) should be strengthened to prevent such outbreaks. Outreach activity must be carried out regularly to reach scattered population.
References
Measles (Rubeola) CDC [Internet]. [cited 2014 Sep 10]. Available from: http://www.cdc.gov/measles/
WHO. Measles. [Internet]. [cited 2014 Sep 11] available from: http://www.who.int/topics/measles/en/
WHO.Measles. Measles Facts Sheet. [Internet]. [cited 2014 Sep 11] Available from: http://www.who.int/mediacentre/factsheets/fs286/en/
Tricou V, Pagonendji M, Manengu C, Mutombo J, Mabo RO, Gouandjika-Vasilache I. Measles outbreak in Northern Central African Republic 3 years after the last national immunization campaign. BMC Infect Dis 2013;13:103.
Swansea Measles Epidemic: Man who died had measles BBC News [Internet]. [cited 2015 Sep 19]. Available from: http://www.bbc.com/news/uk-wales-22215185
HO reports 94 measles outbreaks across Pakistan in January - Newspaper - DAWN.COM [Internet]. [cited 2014 Sep 20]. Available from: http://www.dawn.com/news/781120/who-reports-94-measles-outbreaks-across-pakistan-in-january.
Annual Report 2013-Measles & Rubella Initiative [Internet]. [cited 2014 Oct 10]. Available from: http://www.measlesrubellainitiative.org/annual-report-2013/
Weekly Epidemiological Bulletin - Disease early warning system and response in Pakistan, Volume 5, Issue 48, Wednesday 3 December 2014 - Pakistan. ReliefWeb [Internet]. [cited 2014 Sep 4]. Available from: http://reliefweb.int/report/pakistan/weekly-epidemiological-bulletin-disease-early-warning-system-and-response-pakist-142
Government of Balochistan. District Development Profile 2011. [Internet]. [cited 2014 Sep 10]. Available from: balochistan.gov.pk/DistrictProfile/DDP%20Final%202012/Pishin/Pishin.pdf
Nokes DJ, Williams JR, Butler AR. Towards eradication of measles virus: global progress and strategy evaluation.Vet Microbiol 1995;44(2-4):333–50.
World Health Organization. WHO guidelines for Epidemic Preparedness and Response to Measles Outbreaks, Geneva, Switzerland. 1999.
Demographic P. Health Survey 2012–13. Islamabad and Calverton, MA: National Institute of Population Studies and ICF International; 2013. [Internet]. [cited 2014 Sep 13]. Available from: www.nips.org.pk/abstract_files/Priliminary%20Report%20Final.pdf
Heymann D, American Public Health Association, editors. Control of communicable diseases manual: an official report of the American Public Health Association. 18. ed. Washington, DC: American Public Health Assoc; 2004. p.700.
Khan T, Qazi J. Measles outbreaks in Pakistan: causes of the tragedy and future implications. Epidemiol Rep 2014;2(1):1.
Riaz H . Public Health Failings Behind Pakistan's Measles Surge. Lancet 2013;381(9862):189.
Qazi MS, Ali M. Pakistan's Health Managment Information System:Health Managers' Perspective. J Pak Med Assoc 2009;59(10):10–4.
Ahmed T. Child immunisation: International bodies reject EPI report - The Express Tribune [Internet]. [cited 2014 Sep 15]. Available from: http://tribune.com.pk/story/536036/child-immunisation-international-bodies-reject-epi-report/
Babbar Y. Reasons Behind Deaths by Measles Outbreak Pakistan. 2013 [Internet]. [cited 2014 Oct 10]. Available from: http://www.hoajonline.com/epidemiolrep/2054-9911/2/1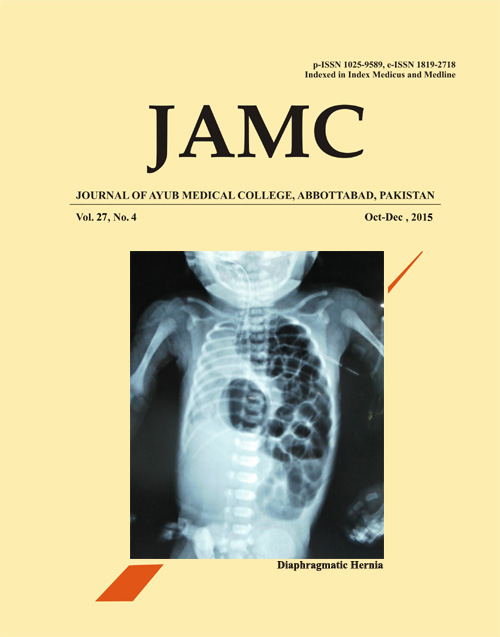 Downloads