URETERIC ANGIOMYOLIPOMA CAUSING UNILATERAL PELVI-URETERIC JUNCTION OBSTRUCTION
Abstract
A 63 year old lady, presented to us with nonspecific abdominal pain. Ultrasonography (USG) and CT scan abdomen and pelvis, showed right moderate hydronephrosis, with no evidence of mass at pelvi-ureteric junction (PUJ) obstruction. Per-operatively mass upper ureter was found obstructing PUJ. Mass was excised and pyeloplasty done, with Double J (DJ) Stenting. Stent was removed after a week. Histopathology of specimen showed upper ureteric Angiomyolipoma.Keywords: Pelvi-ureteric junction obstruction, Angiomyolipoma, Unilateral Hydronephrosis
References
Wright T, Sooriakumaran P, Renal angiomyolipoma presenting with massive retroperitoneal haemorrhage due to deranged clotting factors: a case report. Cases J 2008;1(1):213.
Hyams ES, Provet J. Angiomyolipoma of the Left Ureterovesical Junction. Rev Urol 2007; 9(2):84–8
Lee YC, Huang SP, Liu CC, Wu WJ, Chou YH, Huang CH. Giant extrarenal retroperitoneal angiomyolipoma: A case report and literature review. Kaohsiung J Med Sci 2003;19(11):579–82.
De Siati M, Visona A, Shah J, Franzolin N. Angiomyolipoma of the bladder wall. J Urol 2000;163(3):901–2.
Huan Y, Dillon RW, Unger PD. Angiomyolipoma of the bladder. Ann Diagn Pathol 2002;6(6):378–80.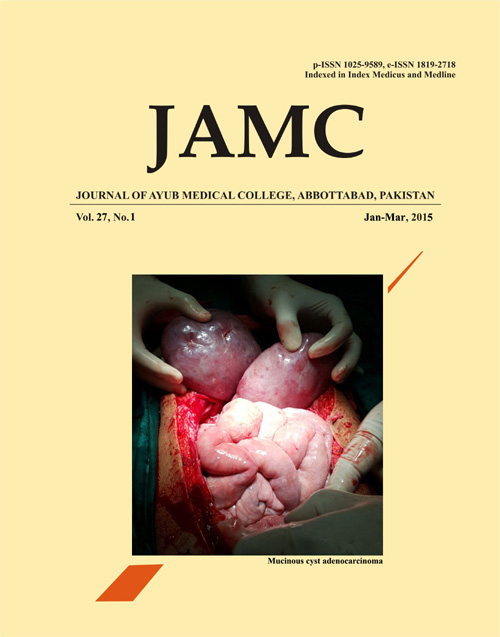 Downloads