JOURNAL OF AYUB MEDICAL COLLEGE ABBOTTABAD - PAKISTAN
J Ayub Med Coll Abbottabad, the printed and online Journal of Ayub Medical College Abbottabad Pakistan, is an indexed journal, recognised by Pakistan Medical and Dental Council (PM&DC) as a Standard Medical Journal and by Higher Education Commission (HEC) of Pakistan. It is registered with Serial Data System of France (pISSN 1025-9589 and eISSN 1819-2718) and indexed with PubMed and Medline and PakMediNet. It is the second journal from Pakistan to achieve this status, and the first journal of any medical college of Pakistan to be internationally indexed and the first Pakistani Medical Journal available Full Text with Illustrations FREE online.
announcement
Reviewer's Credit hours
JAMC is pleased to announce that 1 credit hour /review will be awarded to the reviewer on sucessful and timely completion of each review...Read More
2019-07-24 00:00:00
Suggest your manuscript Reviewers
Authors are required to suggest reviewers for their manuscript...Read More
2019-02-02 00:00:00
Current Issue
VOL: 34 | NO: 1 (2022)
JOURNAL OF AYUB MEDICAL COLLEGE, ABBOTTABAD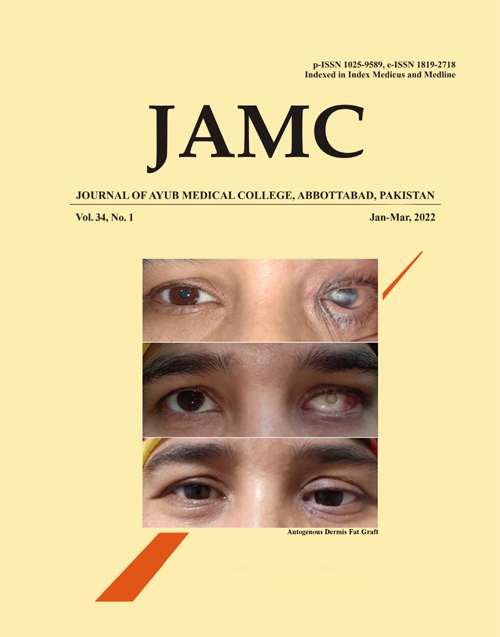 EDITORIAL
THE H10N3 INFLUENZA STRAIN: A CANDIDATE FOR THE NEXT PANDEMIC?
Syed Abdullah Monawwer, Haris Taufiq, Muhammed Muneeb, Khubaib Muhammad Shamim Meah,
ORIGINAL ARTICLE
MEASUREMENT OF RETINAL NERVE FIBER LAYER THICKNESS IN PATIENTS OF UNILATERAL AMBLYOPIA USING OPTICAL COHERENCE TOMOGRAPHY
Sana Ahmed Sarfaraz, Abdul Munim, Sohaib Abbas, Arsalan Ahmed, Rahela Ikram,
FOR ARTICLE SUBMISSION / ACCESSING THE JOURNAL PLEASE
register