CELLULAR AND MOLECULAR RESPONSES OF SAUDI CHRONIC MYELOID LEUKAEMIA PATIENTS TO IMATINIB (STI-571): TEN YEAR EXPERIENCE
Abstract
Background: The cyto-genetic hallmark of chronic myeloid leukaemia (CML), the Philadelphiachromosome (Ph), is the first consistent chromosomal abnormality that has been associated to a certaincancer type. In CML, Philadelphia chromosome is present leading to resistance to cell death and rapidproliferation. The aim of this study is to evaluate the different responses, toxicity and survival of SaudiCML patients to imatinib mesylate. Methods: All newly diagnosed CML patients who were treatedwith imatinib were included in this study. We investigated haematological, and molecular and cytogenetic responses by CBC, FISH and RT-PCR respectively. Cell proliferation and apoptosis wereassayed using AUC and TUNEL respectively. Results: Of the 12 cases, 9 (75%) were males and 3(25%) were female. Four (33%) of the cases were diagnosed incidentally and 8 cases (67%) presentedmainly with fatigue (75%), fever (58%), and splenomegaly (83%). Signs of bleeding and rashes wererare at presentation. The majority of patients had low risk (8, 67%), and 33% had intermediate risk; butnone of them had high risk CML. At the last follow up, 11 (92%) were in remissions. One patient (8%)was in remission after 3 years, 4 (33%) were in remission after 6 years, one was in remission after 7years and 5 (42%) were in remission after 10 years. Only one patient had incomplete major molecularresponse (MMR) to imatinib after 12 years. The majority of the patients (10, 83%) were in MMR after6 years and 42% of them were in MMR after 10 years of therapy. Adverse effects of imatinib were notreported by the patients. Imatinib treatment resulted in the reduction of proliferation and induction ofapoptosis of CML CFU-GM cells. Conclusion: Imatinib mesylate is capable of treating Philadelphiachromosome-positive CP-CML without any adverse effects.Keywords: Imatinib, Philadelphia, CML, responses
References
Nowell PC, Hungerford DA. Chromosome studies in human
leukemia. II. Chronic granulocytic leukemia. J Natl Cancer Inst
;27:1013–35.
Gorusu M, Benn P, Li Z, Fang M. On the genesis and prognosis
of variant translocations in chronic myeloid leukemia. Cancer
Genet Cytogenet 2007;173(2):97–106.
Bose S, Deininger M, Gora-Tybor J, Goldman JM, Melo JV. The
presence of typical and atypical BCR-ABL fusion genes in
leukocytes of normal individuals: biologic significance and
implications for the assessment of minimal residual disease.
Blood 1998;92(9):3362–7.
Deininger MW, Goldman JM, Melo JV. The molecular biology
of chronic myeloid leukemia. Blood 2000;96:3343–56.
Mandanas RA, Boswell HS, Lu L, Leibowitz D. BCR-ABL
confers growth factor independence upon a murine myeloid cell
line. Leukemia 1992;6:796–800.
Sirard C, Laneuville P, Dick J. Expression of bcr-abl abrogates
factor-dependent growth of human hematopoietic M07E cells by
an autocrine mechanism. Blood 1994;83:1575–85.
Cortez D, Kadlec L, Pendergast AM. Structural and signaling
requirements for BCR-ABL-mediated transformation and
inhibition of apoptosis. Mol Cell Biol 1995;15:5531–41.
Daley GQ, Baltimore D. Transfection of an interleukin 3-
dependent hematopoietic cell line by the chronic myelogenous
leukemia-specific P210 protein. Proc Natl Acad Sci USA
;85:9312–6.
Udomsakdi C, Eaves CJ, Swolin B, Reid DS, Barnett MJ, Eaves
AC. Rapid decline of chronic myeloid leukemia cells in longterm culture due to a defect at the stem cell level. Proc Natl Acad
Sci USA 1992;89:6192–6.
Marley SB, Lewis JL, Scott MA, Goldman JM, Gordon MY.
Evaluation of "discordant maturation" in chronic myeloid
leukaemia using cultures of primitive progenitor cells and their
production of clonogenic progeny (CFU-GM). Br J Haematol
;95:299–305.
Chasty RC, Lucas GS, Owen-Lynch PJ, Pierce A, Whetton AD.
Macrophage inflammatory protein-1 alpha receptors are present
on cells enriched for CD34 expression from patients with chronic
myeloid leukemia. Blood 1995;86:4270–7.
Cashman JD, Eaves CJ, Sarris AH, Eaves AC. MCP-1, not MIP-
alpha, is the endogenous chemokine that cooperates with TGFbeta to inhibit the cycling of primitive normal but not leukemic
(CML) progenitors in long-term human marrow cultures. Blood
;92:2338–44.
Gordon MY, Dowding CR, Riley GP, Goldman JM, Greaves
MF. Altered adhesive interactions with marrow stroma of
haematopoietic progenitor cells in chronic myeloid leukaemia.
Nature 1987;328:342–4.
Verfaillie CM, McCarthy JB, McGlave PB. Mechanisms
underlying abnormal trafficking of malignant progenitors in
chronic myelogenous leukemia. Decreased adhesion to stroma
and fibronectin but increased adhesion to the basement
membrane components laminin and collagen type IV. J Clin
Invest 1992;90:1232–41.
Vijayan KV, Advani SH, Zingde SM. Chronic myeloid leukemic
granulocytes exhibit reduced and altered binding to P-selectin:
modification in the CD15 antigens and sialylation. Leuk Res
;21(1):59–65.
Rowley JD. A new consistent chromosomal abnormality in
chronic myelogenous leukaemia identified by quinacrine
fluorescence and Giemsa staining. Nature 1973;243:290–3.
Bartram CR, de Klein A, Hagemeijer A, van Agthoven T, Geurts
vanKessel A, Bootsma D, et al. Translocation of c-Abl oncogene
correlates with the presence of a Philadelphia chromosome in
chronic myelocytic leukaemia. Nature 1983;306:277–80.
Dasmahapatra G, Nguyen TK, Dent P, Grant S. Adaphostin and
bortezomib induce oxidative injury and apoptosis in imatinib
mesylate-resistant hematopoietic cells expressing mutant forms
of Bcr/Abl. Leuk Res 2006;30(10):1263–72.
Borthakur G, Kantarjian H, Daley G, Talpaz M, O'Brien S,
Garcia-Manero G, Giles F, et al. Pilot study of onafarnib, a
farnesyl transferase inhibitor, in patients with chronic myeloid
leukemia in the chronic or accelerated phase that is resistant or
refractory to imatinib therapy. Cancer 2006;106:346–52.
Jorgensen HG, Allan EK, Mountford JC, Richmond L, Harrison
S, Elliott MA, et al. Enhanced CML stem cell elimination in vitro
by bryostatin priming with imatinib mesylate. Exp Hematol
;33:1140–6.
Shah NP, Tran C, Lee FY, Chen P, Norris D, Sawyers CL.
Overriding imatinib resistance with a novel ABL kinase inhibitor.
Science 2004;305(5682):399–401.
Mukai M, Che XF, Furukawa T, Sumizawa T, Aoki S, Ren XQ,
et al. Reversal of the resistance to STI571 in human chronic
myelogenous leukemia K562 cells. Cancer Sci 2003;94557–63.
Nicolini FE, Hayette S, Corm S, Bachy E, Bories D, Tulliez M,
et al. Clinical outcome of 27 imatinib mesylate-resistant chronic
myelogenous leukemia patients harboring a T315I BCR-ABL
mutation. Haematologica 2007;92:1238–41.
Kumar L. Chronic myelogenous leukaemia (CML): An update.
Natl Med J India 2006;19:255–63.
Parkin DM, Bray F, Ferlay J, Pisani P. Global cancer statistics,
CA Cancer J Clin 2005;55:74–108.
Kingdom of Saudi Arabia, Ministry of Health, National Cancer
Registry. Cancer Incidence Report. 1999–2000. Available at:
http://www.kfshrc.edu.sa/oncology/files/ncr99_00.pdf
Miller BA, Ries LAG, Hankey BF, Harras A, Edwards BK, (Eds).
SEER Cancer Statistics Review 1973–90. (NIH Pub No. 93-
. Bethesda MD: National Cancer Institute; 1993. p. 1–44.
Dieninger MW, O'Brien SG, Ford JM, Druker BJ. Practical
management of patients with chronic myeloid leukemia receiving
imatinib. J Clin Oncol 2003;21:1637–47.
Baccarani M, Dreyling M, ESMO Guidelines Working Group.
Chronic myeloid leukaemia: ESMO Clinical Practice Guidelines
for diagnosis, treatment and follow-up. Ann Oncol 2010;(Suppl
:165–7.
Khalil SH, Abu-Amero KK, Al Mohareb F, Chaudhri NA.
Molecular monitoring of response to imatinib (Glivec) in chronic
myeloid leukemia patients: experience at a tertiary care hospital
in Saudi Arabia. Genet Test Mol Biomarkers 2010;14(1):67–74.
Aleem A, Siddiqui N. Chronic myeloid leukemia presenting with
extramedullary disease as massive ascites responding to imatinib
mesylate. Leuk Lymphoma 2005;46:1097–9.
Al-Qurashi F, Ayas M, Al Sharif F, Ibrahim E, Sahovic E, Al
Mahr M, Chaudhri N, et al. Second allogeneic bone marrow
transplantation after myeloablative conditioning analysis of 43
cases from single institution. Hematology 2004;9(2):123–9.
Gupta A, Prasad K. Hematological and Molecular Response
Evaluation of CML Patients on Imatinib. J Assoc Physicians
India 2007;55:109–13.
Mauro MJ. Defining and Managing Imatinib Resistance.
Hematology Am Soc Hematol Educ Program 2006;(1):219–25.
Hochhaus A, O'Brien SG, Guilhot F, Druker BJ, Branford S,
Foroni L, et al. Six-year follow-up of patients receiving imatinib
for the first-line treatment of chronic myeloid leukemia.
Leukemia 2009;23:1054–61.
Gambacorti-Passerin C, Antolini L, François-Xavier M, Guilhot
F, Deininger M, Fava C, et al. Multicenter Independent
J Ayub Med Coll Abbottabad 2012;24(2)
http://www.ayubmed.edu.pk/JAMC/24-2/Faris.pdf
Assessment of Outcomes in Chronic Myeloid Leukemia Patients
Treated With Imatinib. J Natl Cancer Inst 2011;103:553–61.
Marley SB, Deininger MW, Davidson RJ, Goldman JM, Gordon
MY. The tyrosine kinase inhibitor STI571, like interferon-alpha,
preferentially reduces the capacity for amplification of
granulocyte-macrophage progenitors from patients with chronic
myeloid leukemia. Exp Hematol 2000;28(5):551–7.
Marley SB, Davidson RJ, Lewis JL, Nguyen DX, Eades A,
Parker S, et al. Progenitor cells from patients with advanced
phase chronic myeloid leukaemia respond to STI571 in vitro and
in vivo. Leuk Res 2001;25:997–1002.
Marley SB, Davidson RJ, Goldman JM, Gordon MY. Effects of
combinations of therapeutic agents on the proliferation of
progenitor cells in chronic myeloid leukaemia. Br J Haematol
;116(1):162–5.
Oetzel C, Jonuleit T, Gotz A, van der Kuip H, Michels H,
Duyster J, et al. The tyrosine kinase inhibitor CGP57148
(ST1571) induces apoptosis in BCR-ABL-positive cells by
down-regulating Bcl-X. Clin Cancer Res 2000;6:1958–68.
Gambacorti-Passerini C, le Coutre P, Mologni L, Fanelli M,
Bertazzoli C, Marchesi E et al. Inhibition of the ABL kinase
activity blocks the proliferation of BCR/ABL+ leukemic cells
and induces apoptosis. Blood Cells Mol Dis 1997;23: 380–94.
Alenzi FQ. Is there a link between apoptosis and chronic
leukemia. J Cell Sci Ther 2012;3:1–3.
Alenzi FQ, Wyse RK, Tamimi W, Bamaga M, Lotfy M. A close
link between Fas, p53 and Apaf-1 in chronic leukemia. Saudi
Med J 2007;28:1296–99.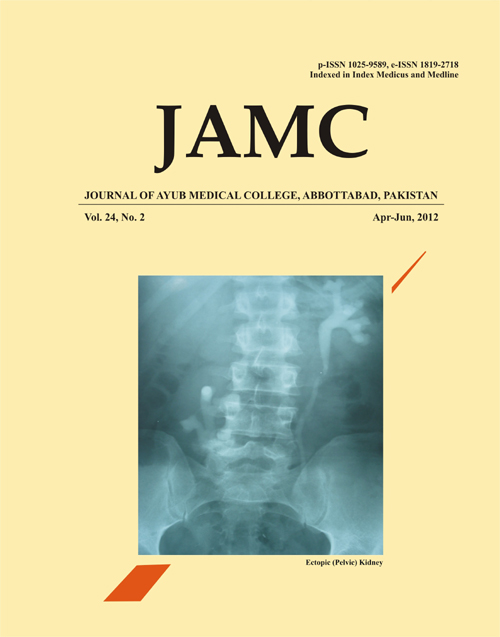 License
Journal of Ayub Medical College, Abbottabad is an OPEN ACCESS JOURNAL which means that all content is FREELY available without charge to all users whether registered with the journal or not. The work published by J Ayub Med Coll Abbottabad is licensed and distributed under the creative commons License  CC BY ND Attribution-NoDerivs. Material printed in this journal is OPEN to access, and are FREE for use in academic and research work with proper citation. J Ayub Med Coll Abbottabad accepts only original material for publication with the understanding that except for abstracts, no part of the data has been published or will be submitted for publication elsewhere before appearing in J Ayub Med Coll Abbottabad. The Editorial Board of J Ayub Med Coll Abbottabad makes every effort to ensure the accuracy and authenticity of material printed in J Ayub Med Coll Abbottabad. However, conclusions and statements expressed are views of the authors and do not reflect the opinion/policy of J Ayub Med Coll Abbottabad or the Editorial Board.
USERS are allowed to read, download, copy, distribute, print, search, or link to the full texts of the articles, or use them for any other lawful purpose, without asking prior permission from the publisher or the author. This is in accordance with the BOAI definition of open access.
AUTHORS retain the rights of free downloading/unlimited e-print of full text and sharing/disseminating the article without any restriction, by any means including twitter, scholarly collaboration networks such as ResearchGate, Academia.eu, and social media sites such as Twitter, LinkedIn, Google Scholar and any other professional or academic networking site.