RESPONSE TO STANDARD INTERFERON A2b AND RIBAVIRIN COMBINATION THERAPY IN CHRONIC HEPATITIS C TREATMENT NAÏVE PATIENTS
Abstract
Background: Treatment of Chronic Hepatitis C is now well established with conventional interferon orpegylated interferon in combination with ribavirin. Peginterferon Alfa and Ribavirin for 6 to 12 monthsis currently approved initial therapy, which is expensive. Response of our patients to standardInterferon-alpha-2b and ribavirin for 24 weeks have been studied. The objective of this study was toasses Sustained Viral Response (SVR) with standard Interferon A2b and Ribavirin combinationtreatment in chronic Hepatitis C patients. Methods: This quasi-experimental study was conducted atCombined Military Hospital, Quetta from Jan 2006 to Jun 2007. One hundred and three patients, with20–60 years of age suffering from chronic Hepatitis C were selected on the basis of raised ALT,positive anti-HCV antibodies, evidence of viraemia by quantitative PCR for HCV RNA and liverbiopsy. All patients were started on same brand of Interferon alpha-2b, 3 MIU subcutaneously, thriceweekly and oral Ribavirin (1,000–1,200 mg/day) for 24 weeks. End treatment response (ETR) aftercompletion of treatment and SVR six months after ETR were recorded. Results: The 103 patients, 85males and 18 females with mean age of 21–48 years completed the treatment for 24 weeks. Mean ALTwas 96.17 (SD±49.98). End treatment response (ETR) was 89.3% (p=0.032). Sustained Viral Responseafter 6 months of treatment was 86.4% (p=0.034). Conclusion: Standard Interferon and Ribavirin hadexcellent SVR. It is effective as well as economical treatment in Chronic Hepatitis C patients.Keywords: Chronic Hepatitis C, Interferon A2b, Ribavirin, SVR
References
Choo QL, Kuo G, Weiner AJ, Overby LR, Bradly DW,
Houghton M. Isolation of a cDNA clone derived from a blood
borne non-A, non-B viral hepatitis genome. Science
;244:359–62.
Lo Re V 3rd, Kostman JR. Management of chronic hepatitis C.
Postgrad Med J 2005;81:376–82.
Ray Kim W. Global epidemiology and burden of hepatitis C.
Microbes Infect 2002;4:1219–25.
Mahmood MA, Khawar S, Anjum AH, Ahmed SM, Rafiq S,
Nazir I, et al. Prevalence of hepatitis B, C and HIV infection in
blood donors of Multan region. Ann KE Med Coll
;10(4):459–61.
Hamid S, Umar M, Alam A, Siddiqui A, Qureshi H, Butt J;
Pakistan Society of Gastroenterology. PSG consensus statement
on management of hepatitis C virus infection- 2003. J Pak Med
Assoc 2004;54:146–50.
Giannini E, Risso D, Botta F. Validity and clinical utility of the
aspartate aminotranferase-alanine aminotranferase ratio in
assessing severity and prognosis in patients with chronic hepatitis
C virus related chronic liver disease. Arch Intern Med
;163:218–24.
Sarwar S, Butt AK, Khan AA, Alam A, Ahmad I, Dilshad A, et
al. Serum alanine aminotranferase level and response to
Interferon-Ribavirin combination therapy in patients with
Chronic Hepatitis C. J Coll Physicians Surg Pak 2006;16:460–3.
Scott JD, Gretch DR. Molecular diagnostics of hepatitis C virus
infection: a systematic review. JAMA 2007;297:724–32.
Dienstag JL. The role of liver biopsy in chronic hepatitis C.
Hepatology 2002;36(suppl 1):152–60.
Strader DB, Wright T, Thomas DL, Seeff LB. Diagnosis,
management, and treatment of hepatitis C. AASLD practice
guide lines. Hepatology 2004;39:1147–71.
Andriulli A, Mangia A, Iacobellis A, Ippolito A, Leandro G,
Zeuzem S. Meta analysis: the outcome of anti-viral therapy in
HCV genotype 2 and genotype 3 infected patients with chronic
hepatitis. Aliment Ther Pharm 2008;28:397–404.
Amina Nadeem, Muhammad Aslam, Dilshad Ahmad Khan,
Tassawar Hussain, Saadat Ali Khan. Effects of combined
Interferon alpha and Ribavirin therapy on thyroid functions in
patients with chronic hepatitis C. J Coll Physicians Surg Pak
;19:86–9.
Raja NS, Janjua KA. Epidemiology of hepatitis C virus infection
in Pakistan. J Microbiol Immunol Infect 2008;41:4–8.
Khokhar N, Asif N, Khokhar OS. Serotype 3 is most common
hepatitis C serotype in Pakistan: however, significant numbers
are untypeable. Hepatology 2003;38:270–1.
Agha Baber Hussain, Tassawar Hussain,Masood Anwar,Shujaat
Hussain,Yousaf Kazmi, Waheeduz Zaman Tariq, Karamat
Ahmed Karamat. Treatment response in HCV related chronic
hepatitis. J Coll Physicians Surg Pak 2004;14(8):466–9.
Javed Iqbal Farooqi, Rukhsana Javed Farooqi. Efficacy of
conventional Interferon alpha 2b plus Ribavirin combination in
the treatment of chronic Hepatitis C naive patients. Rawal Med J
;30(1):9–11.
Hadziyannis HJ, Sette jr, H, Morgan TR, Balan V, Diago M,
Marcellin P, et al. Peginterferon alfa 2-a and ribavirin
combination therapy in chronic hepatitis C. Ann Intern Med
;140:346–55
Khokhar N, Hepatitis C: Are we getting close to control? Rawal
Med J 2005;30(1):1. (Editorial)
Ashraf M, Asghar M, Khan MN, Batool A, Asad J. Chronic
Hepatitis C; effect of Ribavirin therapy on liver functions
Professional Med J 2001;8:487–90.
Mukherjee S, Katz J, Dhawan VK, Wu GY, Talavera F, Brann
OS, et al. Hepatitis C. Available at:
www.eMedicine.Medscape.com Accessed June 25, 2010.
Kashif N, Saeed S, Ahmad TM. Relationship between fibrosis
score and response to interferon alfa and ribavirin combination
therapy in chronic HCV infection. Pak Aremd Forces Med J
;59(1):43–7.
Batool Q, Qureshi S. Declining sustained virological response in
Hepatitis C. J Coll Physicians Surg Pak 2006:16;187–91.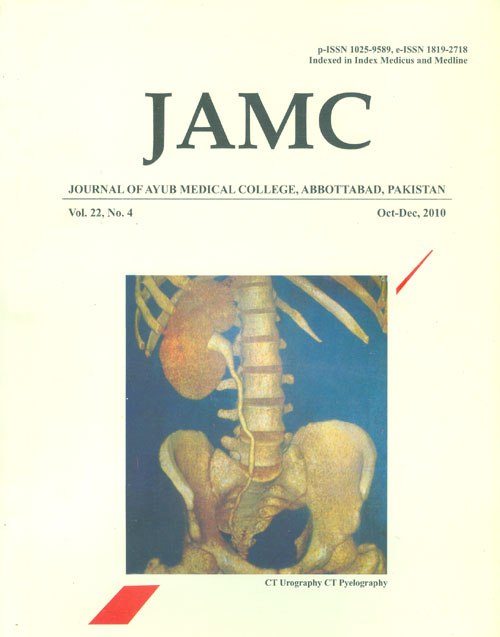 Downloads