ECTOPIC PREGNANCY WITH TUBAL RUPTURE: AN ANALYSIS OF 80 CASES
Abstract
Background: Ectopic pregnancy (EP) is a major problem in obstetrics as there is evidence of increasing incidence throughout the world. It is an important cause of maternal morbidity and mortality. In Pakistan, the care seeking behaviour among female is limited that makes female vulnerable to die due to complication of ectopic pregnancy. The aim of this study is to determine the frequency of tubal rupture in ectopic pregnancy in Pakistani patients. Method: In this cross-sectional study data pertaining to age, gestational age, parity and duration of presenting symptoms were collected and analysed. Result: 80 patients were diagnosed to have ectopic pregnancy. The frequency of tubal rupture was 91.25%. It is encountered significantly more often in women with age of 26 years. More tubal rupture is found in patient with low parity, in which the frequency of tubal rupture is up to 100% and decrease up to 78.6% with increasing parity up to four. Furthermore, it is noted that increase in gestational age from 8 weeks to 10 weeks caused an increase in frequency of tubal rupture from 80 to 100% respectively. It is also noted that earlier the patient presents the lesser is the frequency of tubal rupture, as compared to late presentation beyond 3–4 days which make frequency up to 95%. Conclusion: Tubal rupture is still common cause of maternal morbidity and mortality, and is still a major challenge in gynaecological practice. Creating awareness amongst midwives and GPs regarding early diagnosis can contribute to decrease the mortality, morbidity and fertility loss related to EP.Keywords: Ectopic pregnancy; Tubal rupture; Ultrasonography; Laparotomy
References
Chukus A, Tirada N, Restrepo R, Reddy NI. Uncommon Implantation Sites of Ectopic Pregnancy: Thinking beyond the Complex Adnexal Mass. Radiographics 2015;35(3):946–59.
Grudzinskas JG, Miscarriage ectopic pregnancy and trophoblastic disease. In: Edmonds DK, editor. Dewhurst's textbook of obstetrics and gynaecology for postgraduate. London: Blackwell; 1999 p.61–76.
Anorlu RI, Oluwole A, Abudu OO, Adebajo S. Risk factors for ectopic pregnancy in Lagos, Nigeria. Acta Obstet Gynecol Scand 2005;84(2):184–8.
Ehsan N, Mehmood A. Ectopic pregnancy: an analysis of 62 cases. J Pak Med Assoc 1998;48(2):26–9.
Hassan N, Zaheen Z, Jatoi N, Srichand P, Shaikh F. Risk Factors, Clinical Presentation and Management of 62 cases of ectopic pregnancy at tertiary care center. J Liaquat Univ Med Health Sci 2009;8(3):238–41.
Bangash N, Ahmed H. Study of 65 cases of ectopic pregnancy during one year period in military hospital. Pak Armed Forces Med J 2004;54(2):205–8.
Berlingieri P, Bogdanskiene G, GrodzinKas JG. Rupture of tubal pregnancy in the Vilnius population. Eur J Obstet Gynecol Reprod Biol 2007;131(1):85–8.
Shah N, Khan HN. Ectopic pregnancy: Presentation and Risk Factors. J Col Physicians Surg Pak 2005;15(9):535–8.
Khaleeque F, Siddiqui RI, Jafarey SN. Ectopic Pregnancies: A three-year study. J Pak Med Assoc 2001;51(7):240–3.
T Wasim. Propotionate Morbidity and risk factors of ectopic pregnancy. Ann King Edward Med Univ 2004;10:298–300.
Bouyer J, Coste J, Shojaei T, Pouly JL, Femandez H, Gerbaud L, et al. Risk Factors for ectopic pregnancy: A comprehensive Analysis Based on a large case-contol, population-based study in France. Am J Epidemiol 2003;157(3):185–94.
Tabassum RU, Ammad MA, Ahmed MA. Risks factors for tubal ectopic pregnancy. J Surg Pak 2005;10(4):22–5.
Aziz S, Al Wafi B, Swadi H. Frequency of ectopic pregnancy in Medical Center, Kingdom of Saudia Arabia. J Pak Med Assoc 2001;61(3):221–4.
Mahboob U, Mazhar BS. Management of ectopic pregnancy: A two-year study. J Ayub Med coll Abottabad 2006;18(4):30–3.
Goksedef BP, Kef S, Akca A, Bayik RN, Cetin A. Risk Factor for rupture in tubal ectopic pregnancy: definition of the clinical findings. Eur J Obstet Gynecol Reprod Biol 2011;154(1):96–9.
Malik MS, Saeed F. Diagnosis and Management of ectopic pregnancy. Biomeclica 1998;14:40–4.
Thonneau P, Hijazi Y, Goyaux N, Calvez T, Keita N. Ectopic Pregnancy in Guninea. Bull World Health Organ 2002;80(5):365–70.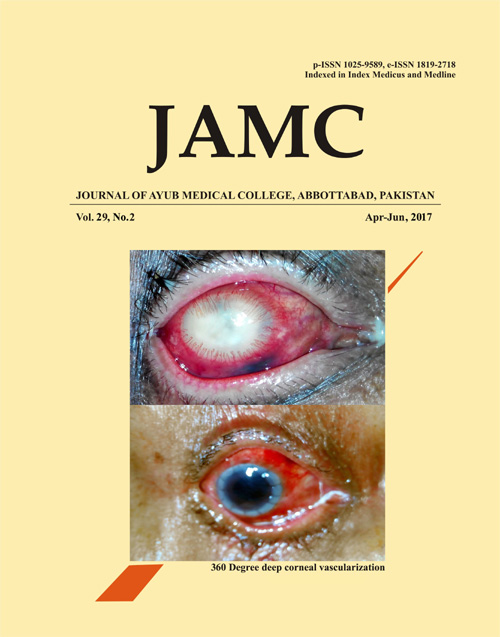 Downloads