ASSESSMENT OF IMMUNIZATION SERVICE IN PERSPECTIVE OF BOTH THE RECIPIENTS AND THE PROVIDERS: A REFLECTION FROM FOCUS GROUP DISCUSSIONS
Abstract
Objective: To assess the immunization services available through expanded program of immunizations (EPI) and national immunizations days (NIDs) and to determine the reasons for incomplete immunization. Background: A number of evaluations of the EPI program have been carried out either at a small scale or countrywide in order to identify statistical figures but very few of them reflect population opinions. Methods: This study is qualitative, based on eight focus Focus Group Discussions (FGDs) with mothers and fathers as recipients while lady health visitors and vaccinators as service providers. Results:Majority of the mother and fathers were aware of the importance of immunization. Overall the failure of immunization was related to low income, inaccessible government dispensaries and occupancy in house hold work. Almost all mothers and fathers were of the opinion that the private clinics are giving service at a higher cost for quality vaccines than that of government dispensaries. Majority of fathers and mothers are ignorant of the advantages of antenatal immunization. Vaccinators and Lady Health Visitors had adequate knowledge and were partly satisfied with the services they provide. Vaccinators identified the need of local vaccinators and well - run vehicles in order to increase immunization rate. Conclusion: The quality of immunization services is compromised at the recipient level mainly due to lack of motivation and prevailing doubts about immunization importance. The service providers thought that the problem of incomplete vaccination in rural or remote areas is because of improper vehicles, unavailability of local vaccinators particularly for females and misplacement of cards. Hence solving the problems of the providers at all levels combined with media campaigns to modify rigid behaviour of recipients can significantly improve the immunization coverage in Pakistan.Key words: vaccination, focus group, qualitative studies, mother's and father's perceptions, immunization
References
Haneef S.M., Maqbool S., Arif M.A. Textbook of Pediatrics 2000. In: Immunization; International Book Bank, Samanabad, Lahore.
Bellamy C. The State of the World's children, UNICEF. Oxford University Press 1998: P 84.
Pakistan Demographic and Health Survey Report 1990/91. Pakistan Medical Research Council, Government of Pakistan.
National Institute of Population studies, IRD/Macro international Inc., Columbia, MD, USA 1992.
Multiple Indicators cluster survey of Pakistan 1995, Ministry of Health, Government of Pakistan.
th Inter-country meeting of National Managers of the EPI, Pakistan, WHO, 1998.
Katherine M., Eastham and Jonathan W. A study of neonatal BCG Immunization within acute trust hospital. Journal of Public Health 2001; 23: 335-8.
Reichler M.R, Darwish A, Stroh G. Cluster survey evaluation of coverage and risk factors for failure to be immunized during the 1995 NIDs in Egypt. Int J Epi 1998; 27: 1083-89.
Maqbool S. A review on Expanded Program on Immunization. Inf Dis Jour, 1998; 4 (5): 65-66.
Rafi S, Shah IA, Rao MH, Billoo AG. Expanded Program of Immunization in Karachi. J Pak Med Assoc 1995; 45: 34-36.
Ruknuddin AR. State of Population in Pakistan, National Institute of Population Studies Islamabad, 1988.
Ahmed SI, Baig L, Thaver IH, Siddiqui MI, Jafery SI, Javed A. Knowledge, attitudes and practices of general practitioners in Karachi District Central about tetanus immunization in adults. J Pak Med Assoc. 2001 Oct;51(10):367-9.
Ahmad N, Akhtar T, Roghani MT, Ilyas HM, Ahmad M. Immunization coverage in three districts of North West Frontier Province (NWFP). J Pak Med Assoc 1999 Dec;49(12):301-5
Monthly Immunization and surveillance report, Deputy Director, Expanded program on immunization, NWFP, Peshawar 1998.
Annual Immunization report, Director, Expanded Program on Immunization, Sindh, Karachi, December 2000.
Reichler MR, Aslanian R, Lodhi ZH, Latif I, Khan MA, Chaudhry R, Idris AA, Barzgar MA. Evaluation of oral poliovirus vaccine delivery during the 1994 national immunization days in Pakistan. J Infect Dis 1997 Feb;175 Suppl 1:S 205-9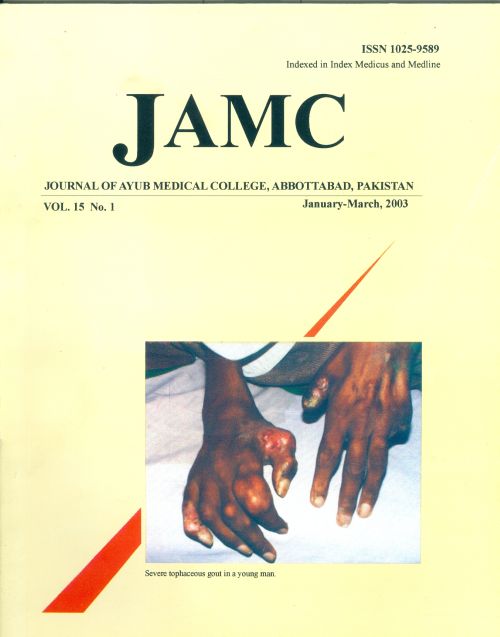 Downloads