FREQUENCY OF EXTENDED SPECTRUM BETA LACTAMASE PRODUCING GRAM NEGATIVE BACILLI AMONG CLINICAL ISOLATES AT CLINICAL LABORATORIES OF ARMY MEDICAL COLLEGE, RAWALPINDI
Abstract
Background: This study was carried out in Microbiology department of Army Medical College, Rawalpindi to find out the frequency of extended spectrum beta lactamase producing gram negative bacilli among clinical isolates recovered from clinical specimens received  from Military Hospital, Rawalpindi. Methods: This study was carried out from 1st Jan 2002 to 30th Dec 2002. A total of 812 consecutive Gram-negative bacilli were recovered during the study period from various samples including urine, blood, pus, sputum, high vaginal swab (HVS), aspirates, i/v canula/ Central venous lines (CVP), chest tubes and catheter tips. Extended spectrum beta lactamase detection in these isolates was carried out by Kirby Bauer disc diffusion method on Mueller Hinton agar. A susceptibility disk containing amoxicillin-clavulanate was placed as the inhibitor of beta lactamase in the center of the plate, and cefotaxime, ceftazidime, ceftriaxone and aztreonam disks were placed 30 mm (center to center) from the amoxicillin-clavulanate disk. Enhancement of the zone of inhibition of the oxyimino--lactam caused by the synergy of the clavulanate in the amoxicillin-clavulanate disk was considered as evidence of ESBL production. Escherichia coli ATCC 25922 and K. pneumoniae ATCC 700603 were used as control strains. Results: The frequency of ESBL producing gram negative bacilli among the clinical isolates was 45%.Keywords: ESBL. Antibiotic. Nosocomial. Enterobacteriaceae 
References
Wood AJ. Antimicrobial-drug resistance. N Eng J Med 1996; 335: 1445–53.
D'Agata FEMC. Antibiotic resistance and exposure to different generation cephalosporins. N Eng J Med 2000;28:2678-81.
Fridkin SK, Steward CD, Edwards JR, Pryor ER, McGowan JE Jr, Archibald LK, et al. Surveillance of antimicrobial use and antimicrobial resistance in United States hospitals: project ICARE phase 2. Clin Infect Dis 1999; 29 (2):245–52.
Pfaller MA, Jones RN. MYSTIC (Meropenem Yearly Susceptibility Test Information Collection) results from the Americas: resistance implications in the treatment of serious infections. J Antimicrob Chemother 2000; 46(Suppl ):25–37.
Goossens H. MYSTIC (Meropenem Yearly Susceptibility Test Information Collection) results from Europe: comparison of antibiotic susceptibilities between countries and centre types. J Antimicrob Chemother 2000;46 (suppl):39–52.
Hsueh PR, Chen ML, Sun CC, Pan HJ, Yang LS, Ho SW et al. Emergence of antimicrobial drug resistance of major pathogens causing nosocomial infections at a university hospital in Taiwan 1981–1999. Emerg Infect Dis 2002; 8(1):63-8
Jarlier V, Nicolas M, Fournier G, Philippon A. Extended broad-spectrum -lactamases conferring transferable resistance to newer -lactam agents in Enterobacteriaceae: hospital prevalence and susceptibility patterns. Rev Infect Dis 1988;10 (4):867-78.
Knothe H, Shah P, Krcmery V, Antal M, Mitsuhashi S. Transferable resistance to cefotaxime, cefoxitin, cefamandole and cefuroxime in clinical isolates of Klebsiella pneumoniae and Serratia marcescens. Infection 1983;11(6):315-7.
Brun-Buisson C, Legrand P, Philippon A, Montravers F, Ansquer M, Duval J et al. Transferable enzymatic resistance to third-generation cephalosporins during a nosocomial outbreak of multiresistant Klebsiella pneumoniae. Lancet 1987; 8(2): 302-6.
Livermore DM, Yuan M. Antibiotic resistance and production of extended spectrum b-lactamases amongst Klebsiella spp. from intensive care units in Europe. J Antimicrob Chemother 1996; 38(3):409-24.
Jacoby GA. Extended-spectrum b-lactamases and other enzymes providing resistance to oxyimino--lactams. Infect Dis Clin North Am 1997; 11(4):875-87.
Coudron PE, Moland ES, Sanders CC. Occurrence and Detection of Extended-Spectrum ß-lactamases in members of the family Enterobacteriaceae at a Veterans Medical Center: Seek and You May Find. J Clin Microbiol 1997; 35(10):2593-7.
Albertini MT. Surveillance of methicillin-resistant Staphylococcus aureus (MRSA) and Enterobacteriaceae producing extended-spectrum beta-lactamase (ESBLE) in Northern France: a five-year multicentre incidence study. J Hosp Infect 2002; 52(2): 107-13.
Bantar C, Famiglietti A, Goldberg M. Three-year surveillance study of nosocomial bacterial resistance in Argentina. The Antimicrobial Committee; and the National Surveillance Program (SIR) Participants Group. Int J Infect Dis 2000; 4(2):85-90.
Mathur P, Kapil A, Das B, Dhawan B. Prevalence of extended spectrum beta lactamase producing gram negative bacteria in a tertiary care hospital. Indian J Med Res 2002; 115:153-7
Shah AA, Hasan F, Ahmed S, Hameed A. Extended-spectrum beta-lactamases in enterobact-eriaceae: related to age and gender. New Microbiol 2002; 25(3): 363-6.
Zaman G, Karamat KA, Abbasi S, Rafi S, Ikram A. Prevalence of Extended-spectrum beta-lactamase (ESBL) producing enterobacteriaceae in nosocomial isolates. PAFMJ 1999: 49 (2): 91-6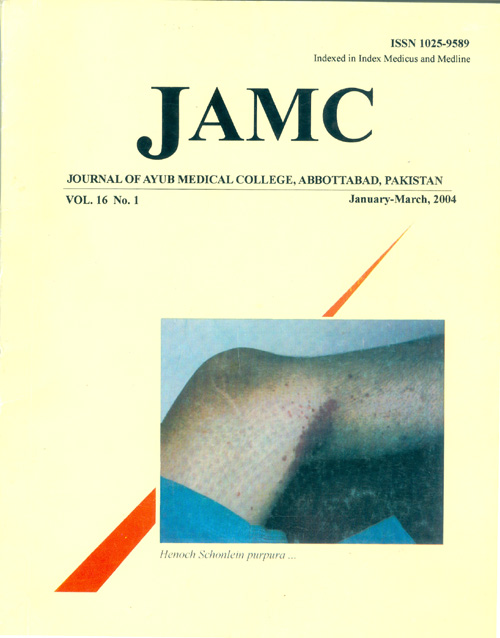 Downloads