RECOMMENDATIONS TO STRENGTHEN THE ROLE OF LADY HEALTH WORKERS IN THE NATIONAL PROGRAM FOR FAMILY PLANNING AND PRIMARY HEALTH CARE IN PAKISTAN: THE HEALTH WORKERS PERSPECTIVE
Abstract
Background: This study was planned to assess the strengths and weakness of the National Program for Family Planning and Primary from the Lady Health Workers (LHW) perspective. We conducted this study in order to develop recommendations for strengthening LHWs' role in Primary Health Care (PHC) in Pakistan in consultation with the health workers. Methods: A qualitative study, based on key informant interviews, was carried out in Karachi, Pakistan. A total of 20 workers were interviewed. Analysis was carried out by grouping similar responses in a matrix and then analysis with reference to context. Results: Motivations for joining program included financial benefits, convenient timings and an opportunity to serve humanity. Training was deemed satisfactory but clinical training was resented because of doctors' attitudes. Further training needs identified included basic information about common ailments, reproductive issues and basic clinical skills. Major strengths of the program mentioned included provision of services at grass root level, reinforcement of health messages and the community acceptability of workers. Weaknesses mentioned included the contractual nature of job, low salaries, irregularity of payment, no career development and poor logistical support. Conclusion: Giving LHWs permanent government employee status and a raise in salary may strengthen the workers functions. Eligible LHWs should be given incentives (skills, career development, financial). The community must be educated about assigned role and responsibilities of LHWs and patient referral system by the LHW needs to be strengthened. The valuable role of LHWs in PHC in Pakistan must be acknowledged and further improvements pursued.Key words: Lady Health Workers; Primary Health Care; Pakistan
References
Declaration of Alma Ata, International conference on Primary Health Care, Alma-Ata,USSR,6-12 September 1978. WHO/OMS, 1999.[Accessed on February 8, 2002] Available at URL: http://www.who.int/hpr/archive/docs/almaata.html
World Bank. The world development report: Investing in Health. Washington DC: Oxford University Press 1993
United Nations Children's Fund (UNICEF), State of the worlds children 1998: Oxford University Press 1998 page 120-21.
United Nations Children's Fund (UNICEF), Statistics: Pakistan. [Accessed on March 18, 2003] Available at URL: http://www.unicef.org/satis/Country_1page132.html
Revised PC-1, Prime Ministers Program for Family Planning and Primary Health Care, Ministry of Health (MoH), Government of Pakistan 1993.
Cumbey DA, Alexander JW. The relationship of job satisfaction with organizational variables in public health nursing. J Nurs Adm 1998; 28(5):39-46.
District Census Report (DCR), Federal Bureau of statistics, Government of Pakistan 1998.
Pakistan country strategy paper on programs and investment strategies to reduce the incidence of child malnutrition in Pakistan: Final Report RETA-5671 by Applied Economics Research Center, University of Karachi, Asian Development Bank and UNICEF Vol.1 1998.
The Client Record Card Project (CRC), Department of Community Health Sciences, The Aga Khan University, Karachi in collaboration with Ministry for Population and Welfare Government of Pakistan and UNDP 1999.
Afsar HA, Qureshi AF, Younus M, Gul A, Mahmood A. Factors effecting unsuccessful referrals by the Lady Health Workers in Karachi Pakistan. J Pak Med Asso2003;53:521-8.
Evaluation report: Briefing note for Sindh survey report. National Program for family planning and Primary Health Care, Ministry of Health (MoH), Government of Pakistan, Oxford policy management March 2002. [Accessed on May 25, 2003]. Available at URL: http://phc.gov.pk/sindh.php.
Kabir M, Moslehuddin M, Ahmed A, Mashiur R. factors affecting discontinuation of indictable methods in Bagladesh. J Fam welfare 1989; 35 (4): 28-37.
Hassan M. Medical ethics: past and present. Pak Heart Journal 1995;28:63-72.
Haasn A. A model for government-community partnership in building sewage systems for urban areas: the experiences of the Orangi pilot project – Research and Training Institute (OPP-RTI), Karachi. Water Sci Technol 2002;45(8):199-216.
Hull FM, Westerman RF. Referral to medical out-patient departments at teaching hospitals in Birmingham and Amsterdam. BMJ 1986;293:311-4.
Ndiwane A. The effects of community, coworker and organizational support to job satisfaction of nurses in Cameroon. ABNF J 2000 ;11(6):145-9.
Franco LM, Bennett S, Kanfer R. Health sector reform and public sector health worker motivation: a conceptual framework. Soc Sci Med 2002; 54 (8):1255-66.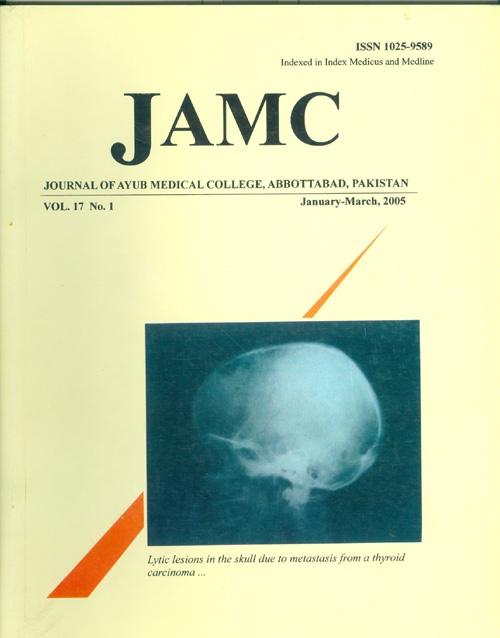 Downloads