OCCURRENCE OF SALIVARY GLANDS TUMOURS A FIFTEEN YEARS EXPERIENCE
Abstract
This is an analysis of 35 salivary gland tumours from local tumour registry1 showing early age female predilection. Twentyout of 35 (57.14%) cases were female. 15/35 (42.86%) cases were male. The ages ranged between 15 to 80 years withmaximum number of cases (21/35, 60%) in the age group below 40 years and mostly female (57%).
References
Shafer W G, Hine MK & Levy B M. Pathology 4th ed.
W.B. Saunders Philadelphia (1983).
John, M K. Andersons Pathology. 9th ed. C.V. Mosby,
Philadelphia (1990).
Gleaven E N, Whittaker J & Nicholson A. Salivary
Tumours. Experience over thirty years Clinoctolaryngol,
; 4: 247-57.
Onyango J F, Awange D O, Muthamia J M & Muga B I.
Salivary glands tumours in Kegga. East-Afr-Med-J.
; 69:525-30.
Sangupta S K, Banerjee A K & Data B N. Primary
tumour of salivary glands; analysis of 111 tumours.
Indian. J. Pathol-Bacterial, 1973; 16:32-40.
Shrikhande S & Sirsat M V. Histological differences
between benign and malignant mucoepidermoid
tumours of salivary glands. Indian-J-Cancer, 1970;
:200-6.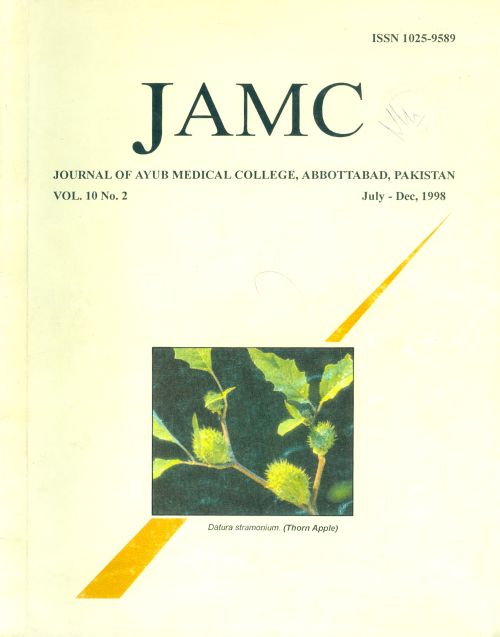 Downloads