RECURRENT LARYNGEAL NERVE INJURY: AN EXPERIENCE WITH 310 THYROIDECTOMIES
Abstract
Background: Thyroid surgery has been associated with complications ranging from nerve injuryto death. Improvements in techniques have reduced the mortality rate to minimum. Morbidity,however, remains a significant concern. This study was designed to determine the prevalence ofrecurrent laryngeal nerve (RLN) injury and duration of recovery following transient recurrentlaryngeal nerve injury, during thyroid surgery. Methods: This prospective, observational studywas carried out in the Surgical Department of Fauji Foundation Hospital, Rawalpindi, fromJanuary 2000 to December 2005. All patients undergoing Thyroid surgery were included.Results: 310 patients, predominantly female (97.09%), were operated. Majority were euthyroid(90.33%). 3.22% patients had recurrent laryngeal nerve injury. Amongst them, 87.5% hadtransient and 12.5% had permanent nerve lesion. Majority of the patients (87.5%) showed signs ofrecovery within 12 weeks after surgery. Injury was observed more in huge goiters (3.57% transientand 1.42% permanent), total thyroidectomy (7.69% transient and 3.84% permanent) and duringlobectomy and total thyroidectomy (6.25% respectively for transient and permanent nerve injury.Conclusion: Thyroid surgery should be done by experienced surgeon and care should be takenespecially in huge goiters and patients undergoing total thyroidectomy.Keywords: Thyroidectomy; Recurrent laryngeal nerve; Injury; Prevalence; Recovery
References
Robertson ML, Steward DL, Gluckman JL, Welge J.
Continuous laryngeal nerve integrity monitoring during
thyroidectomy: Does it reduce risk of injury? Otolaryngol
Head Neck Surg. 2004;131(5):596-600.
Myssiorek D. Recurrent Laryngeal nerve paralysis: anatomy
and etiology. Otolaryngol Clin N Am. 2004;37(1):25-44.
McHenry CR. Patient volumes and complications in thyroid
surgery. Br J Surg. 2002;89(7):821-23.
Trésallet C, Chigot JP , Menegaux F. How to prevent
recurrent laryngeal nerve palsy during thyroid surgery. Ann
Chir 2006;131(2):149-53.
Sittel C, Stennert E, Thumfart WF, Dapunt U, Eckel HE.
Prognostic value of laryngeal electromyography in vocal fold
paralysis. Arch Otolaryngol Head Neck Surg
;127(2):155-60.
Sinagra DL, Montesinos MR, Tacchi VA, Moreno JC, Falco
JE, Mezzadri NA et al. Voice changes after thyroidectomy
without recurrent laryngeal nerve injury. J Am Coll Surg
;199(4):556-60.
Schulte KM, Roher HD. Complications in the surgery of
benign thyroid disease. Acta Chir Austriaca. 2001;
(4):164-72.
Yalcxin B. Anatomic configurations of the recurrent
laryngeal nerve and inferior thyroid artery. Surgery.
;139(2):181-7.
Wheeler MH. Thyroid surgery and recurrent laryngeal nerve.
Br J Surg. 1999; 86(3):291-2.
Hermann M, Alk G, Roka R, Glaser K, Freissmuth M.
Laryngeal recurrent nerve injury in surgery for benign
thyroid disease: effect o f nerve dissection and impact of
individual surgeon in more than 27,000 nerves at risk. Ann
Surg. 2002;235(2):261-8.
Hermann M, Hellebart C, Freissmuth M. Neuromonitoring in
thyroid surgery: Prospective evaluation of intraoperative
electrophysiological responses for the prediction of recurrent
laryngeal nerve injury. Ann Surg 2004; 240(1):9 -17.
Chou FF, Su CY, Jeng SF, Hsu KL, Lu KY. Neurorrhaphy of
the recurrent laryngeal nerve. J Am Coll Surg.
;197(1):52-7.
Aytac B, Karamercan A. Recurrent laryngeal nerve injury
and preservation in thyroidectomy. Saudi Med J. 2005;26
(11):1746-9.
Chiang FY, Lee KW, Huang YF, Wang LF, Kuo WR. Risk
of vocal palsy after thyroidectomy with identification of the
recurrent laryngeal nerve. Kaohsiung J Med Sci
;20(9):431-6.
J Ayub Med Coll Abbottabad 2007; 19(3)
Xu XF, Wang X, Wang CY, Lin N, Wang NY. Specialization
in thyroid surgery. Zhonghua Er Bi Yan Hou Tou Jing Wai
Ke Za Zhi. 2005 Jun;40(6):431-4.
Arif M, Ahmed I. Recurrent laryngeal nerve palsy during
thyroidectomies. J Surg Pakistan. 2001;6(3):12-5.
Shah SSH, Khan A. Assessment of complications of total
thyroidectomy. J Surg Pakistan. 2005;10(3):24-6.
Lü XS, Li XY, Wang ZM, Zhou LD, Li JD. Surgical
treatment of recurrent laryngeal nerve injury caused by
thyroid operations. Zhonghua Wai Ke Za Zhi. 2005; 43(5):
-3.
Bielamowicz S. Perspectives on medialization laryngoplasty.
Otolaryngol Clin N Am 2004;37(1):139-60.
Zheng H, Zhou S, Li Z, Chen S, Zhang S, Wen W et al.
Laryngeal reinnervation for unilateral traumatic recurrent
laryngeal nerve injuries. Zhonghua Er Bi Yan Hou Ke Za
Zhi. 2002;37(4):291-5.
Paniello RC. Laryngeal reinnervation. Otolaryngol Clin N
Am. 2004;37(1):161-81.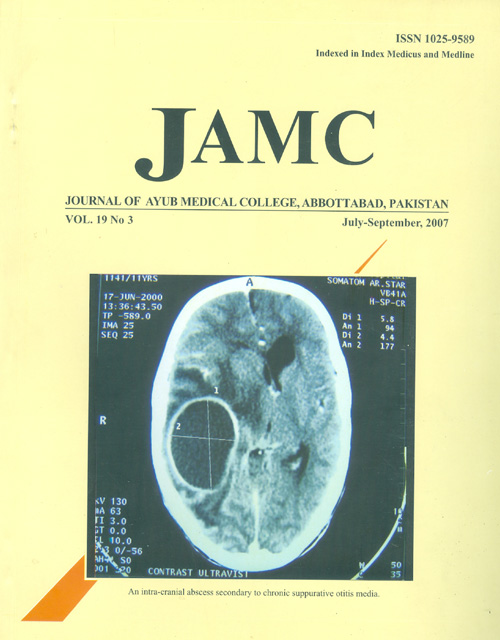 Downloads