AN EXPERIENCE OF PERCUTANEOUS PERITONEAL DRAINAGE IN HIGH-RISK PERFORATED PERITONITIS IN GENERAL SURGICAL WARD OF TERTIARY CARE HOSPITAL LAHORE, PAKISTAN
Abstract
A Background: Although conservative treatment has shown a good reduction in mortality and morbidity the majority of patients still need definitive surgery to get rid of the disease completely. It is of note that immediate laparotomy in high-risk patients who have a prolonged history or have multiple comorbidities or in organ failure is not advisable as it is associated with higher morbidity and mortality, besides improved postoperative intensive care. Methods: We categorized these high-risk patients based on their comorbidities and then performed percutaneous peritoneal lavage to reduce the septic load from the peritoneal cavity before performing the definite procedure. Results: Out of the high-risk patients who survived after the PPD and underwent definitive surgery, 61% survived (n=8/13) while the rest of these, 38.5% expired (n=5). Conclusion: Percutaneous peritoneal drainage initially instituted in high-risk patients to optimize their pre-op condition significantly, improves the outcome and has better results than to operate on such patients straightaway.
References
Bali RS, Sharma AK, Soni RK. Etiology and management of perforation peritonitis: perspective from developing world. Int Surg J 2017;4(9):3097–100.
Shin R, Lee SM, Sohn B, Lee DW, Song I, Chai YJ, et al. Predictors of Morbidity and Mortality After Surgery for Intestinal Perforation. Ann Coloproctol 2016;32(6):221–7.
Bhasin SK, Sharma V, Azad TP. Primary peritoneal drainage in critically ill patients of perforation peritonitis (an experience of 60 cases). Int Surg J 2017;4(6):2030–6.
Leppäniemi AK. Laparostomy: why and when? Crit Care 2010;14(2):216.
Hanumanthappa MB, Gopinathan S, Rai G, Dsouza N. A non-operative treatment of perforated peptic ulcer: A prospective study with 50 cases. J Clin Diagn Res 2012;6(4 Suppl 2):696–9.
Lohsiriwat V, Prapasrivorakul S, Lohsiriwat D. Perforated Peptic Ulcer: Clinical Presentation, Surgical Outcomes, and the Accuracy of the Boey Scoring System in Predicting Postoperative Morbidity and Mortality. World J Surg 2009;33(1):80–5.
Kocer B, Surmeli S, Solak C, Unal B, Bozkurt B, Yildirim O, et al. Factors affecting mortality and morbidity in patients with peptic ulcer perforation. J Gastroenterol Hepatol 2007;22(4):565–70.
Dascalescu C, Andriescu L, Bulat C, Danila R, Dodu L, Acornicesei M, et al. Taylor's method: a therapeutic alternative for perforated gastroduodenal ulcer. Hepatogastroenterology 2006;53(70):543–6.
Khan PS, Dar LA, Hayat H. Predictors of mortality and morbidity in peritonitis in a developing country. Ulus Cerrahi Derg 2013;29(3):124–30.
Peden CJ. Emergency surgery in the elderly patient: a quality improvement approach. Anesthesia 2011;66(6):440–5.
Søreide K, Thorsen K, Harrison EM, Bingener J, Møller MH, Ohene-Yeboah M, et al. Perforated peptic ulcer. Lancet 2015;386(10000):1288–98.
Møller MH, Adamsen S, Wøjdemann M, Møller AM. Perforated peptic ulcer: How to improve outcome? Scand J Gastroenterol 2009;44(1):15–22.
Fujita T. Surgical approaches to peritonitis (Br J Surg 2007; 94: 1317–1318). Br J Surg 2008;95(2):259.
Robledo FA, Luque-de-Leon E, Suarez R, Sanchez P, de-la-Fuente M, Vargas A, et al. Open versus closed management of the abdomen in the surgical treatment of severe secondary peritonitis: a randomized clinical trial. Surg Infect (Larchmt) 2007;8(1):63–72.
Zenciroğlu A, Çakmak Ö, Demirel N, Bas AY, Yilmaz D, Karaman I, et al. Outcome of Primary Peritoneal Drainage for Perforated Necrotizing Enterocolitis: Comparison between Laparotomy and Drainage. Eur J Pediatr Surg 2005;15(4):243–7.
Janik JS, Ein SH. Peritoneal drainage under local anesthesia for necrotizing enterocolitis (NEC) perforation: A second look. J Pediatr Surg 1980;15(4):565–8.
Saber A, Gad MA, Ellabban GM. Perforated duodenal ulcer in high-risk patients: is percutaneous drainage justified? N Am J Med Sci 2012;4(1):35–9.
Baloch I, Shaikh A, Shaikh SF. Pre-operative peritoneal drainage as a part of resuscitation in severe peritonitis. J Pak Med Assoc 2013;63(7):919–20.
Job RS, Attri AK, Kaushik R, Sharma R, Jhobta A. Spectrum of perforation peritonitis in India--review of 504 consecutive cases. World J Emerg Surg 2006;1:26.
Bucher P, Oulhaci W, Morel P, Ris F, Huber O. Results of conservative treatment for perforated gastroduodenal ulcers in patients not eligible for surgical repair. Swiss Med Wkly 2007;137(23-24):337–40.
Qadeer E, Fatima R, Yaqoob A, Tahseen S, Ul Haq M, Ghafoor A, et al. Population-Based National Tuberculosis Prevalence Survey among Adults (>15 Years) in Pakistan, 2010-2011. PLoS One 2016;11(2):e0148293.
Uccheddu A, Floris G, Altana ML, Pisanu A, Cois A, Farci SL. Surgery for perforated peptic ulcer in the elderly. Evaluation of factors influencing prognosis. Hepatogastroenterology 2003;50(54):1956–8.
Thirumanikandan PL, Arasu VT. Percutaneous drain for high-risk cases of perforative peritonitis. Int Surg J 2016;3(1):258–60.
:3.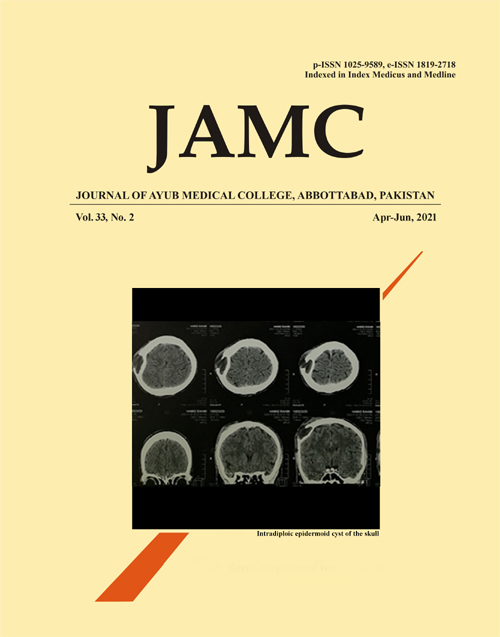 Downloads