MORPHOLOGICAL PATTERN AND FREQUENCY OF CENTRAL NERVOUS SYSTEM TUMOURS IN CHILDREN
Abstract
Background: Recent studies, including a comprehensive study by National Cancer Institute, have shown that a significant increase in the incidence of childhood brain tumours makes them the most common paediatric tumour. The objectives of this study were to determine the frequency of central nervous system tumours in paediatric age group (0–12 years), and to segregate various morphologic types according to WHO classification. Methods: The study included consecutive cases of central nervous system tumours diagnosed in children in the histopathology department at Federal Government Polyclinic, PGMI, Islamabad, during a period of 4.8 years (Jan 2009–Aug 2013).  The initial histopathological evaluation of these lesions was performed on H&E stained sections of paraffin embedded tissues. Special stains and immunohistochemistry were performed whenever indicated. Results: Out of 75 cases, 34 (45.3%) were astrocytic tumours, including 16(47.1%) Pilocytic astrocytomas (WHO Grade-I), 1 (2.9%) diffuse fibrillary astrocytoma (WHO Grade-II), 1 (2.9%) anaplastic astrocytoma (WHO Grade-III) and 16(47.1%) glioblastoma multiforme (WHO Grade-IV); 18 (24%) were embryonal tumours including 17 (94.4%) medulloblastoma (WHO Grade-IV) and 1 (5.6%) neuroblastoma (WHO Grade IV); 10 (13.3%) were craniopharyngiomas (WHO Grade-I) and 5 (6.7%) were ependymal tumours including 1 (20%) myxopapillary ependymoma (WHO Grade-I) and 4 (80%) ependymomas (WHO Grade-II). Miscellaneous entities included 3 (4%) choroid plexus tumours; 1 (2%) anaplastic oligodendroglioma (WHO Grade-III); 1 (2%) atypical meningioma (WHO Grade-II); 1 (2%) schwannoma (WHO Grade-I); 1 (2%) neurofibroma (WHO Grade-I) and 1 (2%) lipoma (WHO Grade-I). Conclusion: Astrocytic tumours are the most common central nervous system tumours in paediatric age group and high grade lesions (WHO Grade-IV) constitute the largest category (45.3%).
References
Bleyer WA. Epidemiologic impact of children with brain tumours. Childs Nerv Syst 1999;15:758–63.
Smith MA, Friedlin B, Ries LA, Simon R. Trends in reported incidence of primary malignant brain tumours in children in the United states. J Natl Cancer Inst 1998;90(17):1269–77.
Dolecek TA, Propp JM, Stroup NE, Kruchko C. CBTRUS Statistical Report: Primary Brain and Central Nervous System Tumors Diagnosed in the United States in 2005-2009. Neuro Oncol 2012;14:v1–49.
Birch JM, Hartley AL, Teare MD, Blair V, McKinney PA, Mann JR, et al. The inter-regional epidemiological study of childhood cancer (IRESCC): Case control study of children with central nervous system tumours. Br J Neurosurg 1990;4(1):17–25.
Hanif G, Shafqat S. Morphological pattern and frequency of intracranial tumours in children. J Coll Physician Surg Pak 2004;14(3):150–2.
Starling KA, Shepherd DA. Symptoms and signs of cancer in the school age child. J Sch Health 1997;47(3):144–6.
Young G, Torestsky JA, Campbell AB, Eskenazi AE. Recognition of common childhood malignancies. Am Fam Physician 2000;61(7):2144–54.
Memon F, Rathi SL, Memon MH. Pattern of Solid Paediatric Malignant Neoplasm at Lumhs, Jamshoro, Pakistan. J Ayub Med Coll Abbottabad 2007;19(4):55–7.
De la Torre Mondragón L, Ridaura Sanz C, Reyes Mujica M, Rueda-Franco F. Central nervous system tumours in Mexican children. Childs Nerv Syst 1993;9(5):260–5.
Starr MA: Tumours of the brain in childhood. Their variety and situation with special reference to their treatment by surgical interference. Med News 1889;54:29–37.
Low NL, Correll JW, Hammill JF. Tumours of the cerebral hemispheres in children. Arch Neurol 1965;13(5):547–54.
Mackay EN, Sellers AH. Malignant neoplasms of the central nervous system, Ontario Cancer Foundation Clinics, 1950-1964. Can Med Assoc J 1968;99(25):1245–53.
Davis CH, Odom GI, Woodhall B. Brain tumours in children- Clinical analysis of 164 cases. Pediatrics 1956;18(6):856–69.
Shah SH, Soomro IN, Hussainy AS, Hassan SH. Clinico Marphological Pattern of Intracranical Tumours in Children. J Pak Med Assoc 1999;49(3):63–5.
Farwell JR, Dohrmann GJ, Flannery JT. Central nervous system tumours in children. Cancer 1977;40(6):3123–32.
Ahmed N, Bhurgri Y, Sadiq S, Shakoor KA. Pediatric Brain Tumours at a Tartiary care hospital in Karachi. Asian Pac J Cancer Prev 2007;8(3):399–409.
Saleem MZ, Zaid ul Haq M, Badsha S. Pattern of Chilhood Malignancies at Combined Military Hospital, Rawalpindi. Pak Armed Forces Med J. 2012;62(4).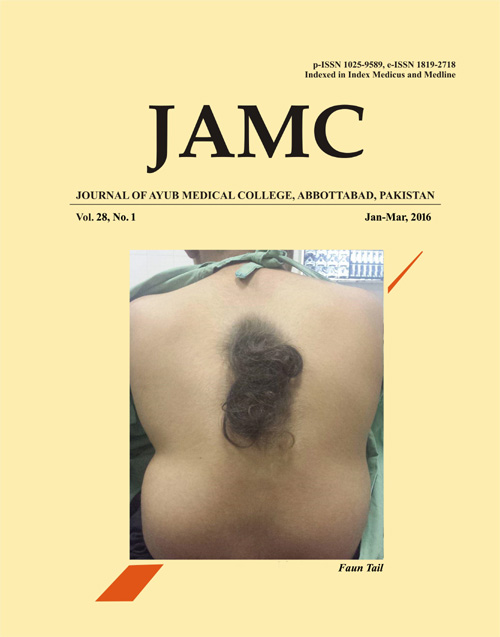 Downloads