BILATERAL CLAVICLE FRACTURES TREATED WITH SCREW INTRAMEDULLARY FLEXIBLE NAIL
Keywords:
Bilateral Clavicle Fractures, Unusual, Rare, Closed Reduction, Intramedullary Nail
Abstract
Clavicle fractures have been known to be common injuries with a reported incidence of 2.4–4% amongst all fractures, however the incidence of bilateral clavicle fractures is rare. A thorough search of all English language journals revealed that bilateral clavicle fractures comprised 0.43% of all clavicle fractures, with an overall incidence of between 0.011–0.017%. Though the surgical intervention of clavicle fractures uses many implants, never has been screw intramedullary flexible nail been used in a bilateral clavicle fracture. We report a case of a 32-year-old male who presented with bilateral clavicle fracture and was treated successfully. Keywords: Bilateral clavicle fractures, closed reduction, internal fixation, intramedullary
References
REFERENCES
Bajuri MY, Boon HW. Bilateral Clavicle Fractures: A Case Report. Malays Orthop J 2018;12(1):60–2.
Puranik G, Gillham N. Bilateral fractured clavicles with multiple rib fractures. Emerg Med J 2007;24(9):675.
Van den Bout HET, Snyckers CH. Bilateral clavicle fractures A case report and review of the literature. South Afr Orthop J 2011;10(2):55–66.
Lakhotia D, Khatri K, Sharma V, Farooque K, Sharma S. Bilateral Clavicle Fractures: A Report of Three Cases. J Clin Diagn Res 2016;10(6):1–3.
Kharat A, Maheshwari S, Choudhury P, Mohapatra A. Double trouble!!! An unusual presentation of cervical cord herniation and medial end clavicle non-union in a single patient. BMJ Case Rep 2018;2018:bcr224393.
Robinson C, Court-Brown C, McQueen M, Wakefield A. Estimating the risk of nonunion following nonoperative treatment of a clavicular fracture. J Bone Joint Surg Am 2004;86(7):1359–65.
Dahners L. Opinion: antegrade clavicle nailing. J Orthop Trauma 2005;19(7):501–2.
Brunner A, Wedi E, Hoffmann A, Babst R. Bilateral fracture of the medial clavicles treated by open reduction and internal fixation using angle stable locking T-plates. Inj Extra 2008;39(8):276–8.
Agrawal A, Pratap A, Kumar A, Thapa A, Sinha A. Multiple fractures upper body fractures associated with extradural hematomas. Pak J Neurol Sci 2007;2(1):11–3.
Marya KM, Yadav V, Kochar H. Bilateral clavicle fractures. Hong Kong J Orthop Surg 2002;6(1):39–41.
Kulkarni RS, Kulkarni RM, Arora P, Shyam AK. Bilateral Fracture Clavicles occurring Simultaneously and treated with Intramedullary Fixation. J Orthop Case Rep 2011;1(1):29–32.
Jubel A, Andermahr J, Schiffer G, Tsironis K, Rehm KE. Elastic stable intramedullary nailing of midclavicular fractures with a titanium nail. Clin Orthop Relat Res 2003;408:279–85.
Bonnevialle N, Delannis Y, Mansat P, Peter O, Chemama B, Bonnevialle P. Bilateral clavicle fracture external fixation. Orthop Traumatol Surg Res 2010;96(7):821–4.
Gadegone WM, Lokhande V. Screw Intramedullary Elastic Nail Fixation in Midshaft Clavicle Fractures: A Clinical Outcome in 36 Patients. Indian J Orthop 2018;52(3):322–7.
Millett PJ, Hurst JM, Horan MP, Hawkins RJ. Complications of clavicle fractures treated with intramedullary fixation. J Shoulder Elbow Surg 2011;20(1):86–91.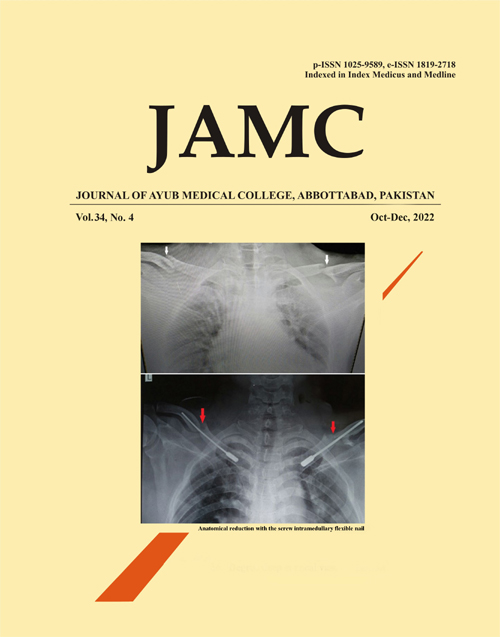 Downloads