LHERMITTE-DUCLOS DISEASE: A RARE CEREBELLAR HAMARTOMA PRESENTING FOLLOWING TRAUMATIC BRAIN INJURY AND A REVIEW OF THE LITERATURE
Keywords:
Lhermitte-Duclos Disease, Dysplastic Gangliocytoma, Cowden's Disease
Abstract
Lhermitte-Duclos Disease (LDD) is an extremely rare hamartoma of the cerebellum and is associated with the cancer syndrome Cowden's disease. We report such a patient whose disease was diagnosed incidental to traumatic brain injury. A 40-year-old male presented after fall from stairs. CT scan revealed a large lesion in the right cerebellar hemisphere. Clinical history recounted multiple short episodes of vomiting (>10 a week) for the past 30 years and development of posterior fossa symptoms over the recent months. Neither of these had him referred due to lack of access to primary healthcare. T1 MRI with contrast showed an isointense focal mass, enhancement along the folia, and distortion of the 4th ventricle. On T2 MRI, tiger striped appearance was noted. Endoscopic third ventriculostomy was performed followed by gross total resection of the hamartoma. Histology confirmed LDD. All reported symptoms resolved following surgery. Due to lack of access to the expensive genetic testing for Cowden's he is in regular biannual follow up to be evaluated clinically for associated malignancies. We present this case to highlight the clinical-pathological characteristics of LDD, its treatment, and discuss management in the absence of genetic testing in our socio-economic demographic.
References
Louis DN, Ohgaki H, Wiestler OD, Cavenee WK, Burger PC, Jouvet A, et al. The 2007 WHO Classification of Tumours of the Central Nervous System. Acta Neuropathol 2007;114(2):97–109.
Nowak DA, Trost HA. Lhermitte-Duclos disease (dysplastic cerebellar gangliocytoma): a malformation, hamartoma or neoplasm? Acta Neurol Scand 2002;105(3):137–45.
Robinson S, Cohen AR. Cowden disease and Lhermitte–Duclos disease: an update. Case report and review of the literature. Neurosurg Focus 2006;20(1):1–6.
Zhou XP, Marsh DJ, Morrison CD, Chaudhury AR, Maxwell M, Reifenberger G, et al. Germline Inactivation of PTEN and Dysregulation of the Phosphoinositol-3-Kinase/Akt Pathway Cause Human Lhermitte-Duclos Disease in Adults. Am J Hum Genet 2003;73(5):1191–8.
Abel TW, Baker SJ, Fraser MM, Tihan T, Nelson JS, Yachnis AT, et al. Lhermitte-Duclos Disease: A Report of 31 Cases with Immunohistochemical Analysis of the PTEN/AKT/mTOR Pathway. J Neuropathol Exp Neurol 2005;64(4):341–9.
Joo GJ, Doumanian J. Radiographic Findings of Dysplastic Cerebellar Gangliocytoma (Lhermitte-Duclos Disease) in a Woman with Cowden Syndrome: A Case Study and Literature Review. J Radiol Case Rep 2020;14(3):1–6.
Giorgianni A, Pellegrino C, De Benedictis A, Mercuri A, Baruzzi F, Minotto R, et al. Lhermitte-Duclos Disease. Neuroradiol J 2013;26(6):655–60.
Vantomme N, Van Calenbergh F, Goffin J, Sciot R, Demaerel P, Plets C. Lhermitte–Duclos disease is a clinical manifestation of Cowden's syndrome. Surg Neurol 2001;56(3):201–4.
Onder E, Arikok AT, Turkoglu E, Alper M. Lhermitte-duclos disease: a rare lesion with variable presentations and obscure histopathology. Turk Petoloji Derg 2018;34(1):92–9.
Khalid F, Abbasi AN. Challenges Faced by Pakistani Healthcare System: Clinician's Perspective. J Coll Physicians Surg Pak 2018;28(12):899–901.
Wang Q, Zhang S, Cheng J, Liu W, Hui X. Lhermitte-Duclos disease: Clinical study with long-term follow-up in a single institution. Clin Neurol Neurosurg 2017;162:53–8.
Salunke P, Ahuja C, Rane S, Singla N, Savardekar A. Unusual presentation in adult medulloblastomas: Imaging features mimicking cerebellar dysplastic gangliocytoma (Lhermitte-Duclos disease). Neurol India [Internet]. 2012;60(5):555.
Mester J, Eng C. Cowden syndrome: Recognizing and managing a not-so-rare hereditary cancer syndrome. J Surg Oncol 2014;111(1):125–30.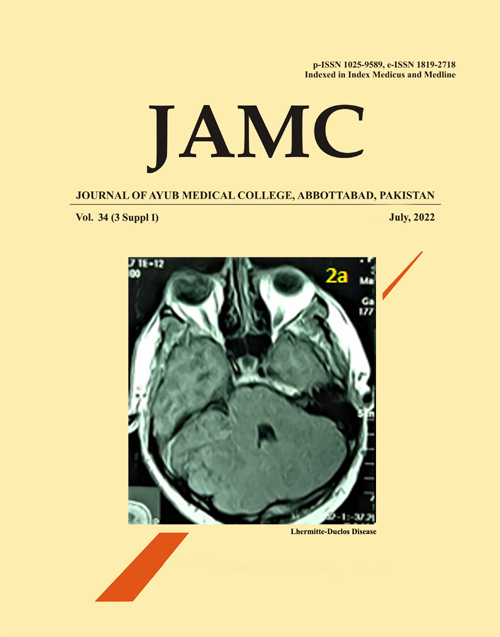 Downloads