RESPONSE TO DIFFERENT CONVENTIONAL INTERFERONS IN TREATMENT OF CHRONIC HEPATITIS C
Abstract
Background: Sustained virological response to interferon therapy is a great challenge for patients ofchronic Hepatitis C. Over 20 brands of interferons are available in the local market with each claimingover 80% response and a wide variation in the cost thus creating confusion for treating physicians as towhich drug should be selected. Methods: Chronic Hepatitis C patients attending outpatients departmentof Pakistan Medical Research Centre JPMC from January 1998–December 2010 were evaluated.Complete blood count, liver function tests, serum proteins, HCV-RNA were done in all cases beforestarting therapy. Side effects were also noted. Results: Total of 851 cases received interferon 3 MIUthree times a week for 6 months. There were 638 (75%) males and 213 (25%) females, mean age was36.1±10.4 years. All were HCV-RNA positive prior to treatment, at the end of 6 months 666 (78.3%)became negative while 185 (21.7%) were non-responders with positive HCV RNA. End of treatmentresponse (ETR) showed 84.7% with Bioferon (Argentina), 83.8% Hebron (Cuba), 82.2% INF(Argentina), 82.1% Ceron (China), 81% Viteron (Korea), 80.7% Leveron (Argentina), 81.5%Hepaferon, 79.1% Anferon (China), 77.4% Intron (Belgium), 75% Green alpha (Korea), 74% Roferon(Switzerland), 67.3% Uniferon (Lithuania), and 68.4% with others. Post-treatment 211 cases were lost tofollow-up. In remaining 358/640 (55.9%) negative for HCV-RNA, at six months follow up, whereas 98(15.3%) relapsed. Sustained virological response (SVR) Ceron 68.2%, Hebron 66.3%, Bioferon 65.2%,Leveron 60.5%, Intron 60.3%, Viteron 57%, Anferon 53.3%, Green alpha, Roferon, Hepaferon, andothers 50%, INF 48.5% and Uniferon 41.9%. Average cost of these interferons was Rs. 6,000/month,except Hepaferon 5,000/month, Roferon 10,600/month. Conclusions: ETR ranged from 74–84.7% andSVR 41.9% to 68.2% and >60% SVR was observed with Ceron, Hebron, Bioferon, Leveron, Intron andwere cost effective.Keywords: Conventional interferon, response, chronic Hepatitis C.
References
Qureshi H, Bile KM, Jooma R, Alam SE, Afridi HUR. Prevalence
of hepatitis B and C viral infections in Pakistan: findings of a
national survey appealing for effective prevention and control
measures. East Mediterr Health J 2010;16 Suppl:S15-23.
Ahmed W, Qureshi H, Arif A, Alam SE. Changing trend of viral
hepatitis –A twenty-one year report from Pakistan Medical
Research Council, Research Centre, Jinnah Postgraduate Medical
Centre, Karachi. J Pak Med Aassoc 2010:60(2):86–9.
Rehman I, Idrees M, Ali M, Ali L, Butt S, Hussain A, et al.
Hepatitis C virus genotype 3a with phylogenetically distinct
origin is circulating in Pakistan. Genet Vaccines Ther 2011;9:2.
Farooqi JI, Farooqi RJ. Efficacy of conventional Interferon alpha-
b plus Ribavirin combination in the treatment of Chronic
Hepatitis C naïve patients. Rawal Med J 2005;30:9–11.
Hoofnagle JH, Mullen KD, Jones DB, Rustgi V, Di Bisceglie A,
Peters M, et al. Treatment of chronic non-A, non-B hepatitis with
recombinant human alpha interferon. A preliminary report. N
Engl J Med 1986;315:1575–8.
Tong MJ, Blatt IM, McHutchison JG, Co RL, Conrad A.
Prediction of response during interferon alfa 2b therapy in
chronic hepatitis C patients using viral and biochemical
characteristics: A comparison. Hepatology 1997;26:1640–5.
Ferrell GC, Bacon BR, Goldin RD. Lymphoblastoid Interferon
alfa-n1 improves the long term response to a 6-month course of
treatment in chronic hepatitis C compared with recombinant
interferon alfa-2b: Results of an international randomised
controlled trial, Clinical Advisory Group for the Hepatitis C
Comparative study. Hepatology 1998;27:1121–7.
McHutchison JG, Gordon SC, Schiff ER, Shiffman ML, Lee
WM, Rustgi VK, et al. Interferon alfa-2b alone or in combination
with Ribavirin as initial treatment for chronic hepatitis C.
Hepatitis Interventional Therapy Group. N Engl J Med
;339:1485–92.
Devis GL, Esteban-Mur R, Rustgi V, Hoefs J, Gordon SC, Trepo
C, et al. Interferon alfa-2b alone or in combination with Ribavirin
for the treatment of relapse of chronic hepatitis C. International
Hepatitis Interventional Therapy Group. N Engl J Med
;339:1493–9.
Lau DT, Kleiner DE, Ghany MG, Park Y, Schmid M, Hoofnagle
JH. 10-years follow-up after interferon-alpha therapy for chronic
hepatitis C. Hepatology 1998;28:1121–7.
Bodenheimer HC Jr, Lindsay KL, Davis GL, Lewis JH, Thung
SN, Seef LB. Tolerance and efficacy of oral Ribavirin treatment
of chronic hepatitis C: a multicenter trial. Hepatology
;26:473–7.
J Ayub Med Coll Abbottabad 2012;24(3-4)
http://www.ayubmed.edu.pk/JAMC/24-3/Ahmed.pdf 123
Kjaergard LL, Krogsgaad K, Gluud C. Interferon alfa with or
without Ribavirin for chronic hepatitis C: systematic review of
randomised trials. BMJ 2001;323:1151–5.
Lai MY, Kao JH, Yang PM, Wang JT, Chen PJ, Chan KW, et al.
Long-term efficacy of Ribavirin plus interferon alfa in the
treatment of chronic hepatitis C. Gastroenterology
;111:1307–12.
Pol S, Nalpas B, Bourliere M, Couzigou P, Tan A, Abergel A, et
al. Combination of Ribavirin and interferon-alfa suppresses high
dose of interferon-alfa alone in patients with genotype-1b related
chronic hepatitis C. Hepatology 2000;31:1338–44.
Tayyab GN, Haque I, Zafar S. Rapid virological response (RVR)
and early virological response (EVR) with standard Interferon
and Ribavirin for chronic HCV infection —An experience. J Pak
Med Assoc 2007;57:S-2.
Ahmed W, Qureshi H, Arif A, Ather R, Kiran. Is response of
Alpha 2A and 2B interferon same in Hepatitis C. J Pak Med
Assoc 2007;57:S-14.
Strader DB, Wright T, Thomas DL, Seeff LB. Diagnosis,
management and treatment of hepatitis C. AASLD practice
guidelines 2004. Available at: http//www.natap.org/2004/pdf/
AASLD_Prac_Guide HepC.pdf
Hamid S, Umar M, Alam A, Siddiqui A, Qureshi H, Butt J.
Pakistan Society of Gastroenterology. PSG Consensus Statement
on management of Hepatitis C virus infection 2003. J Pak Med
Assoc 2004;54:146–50.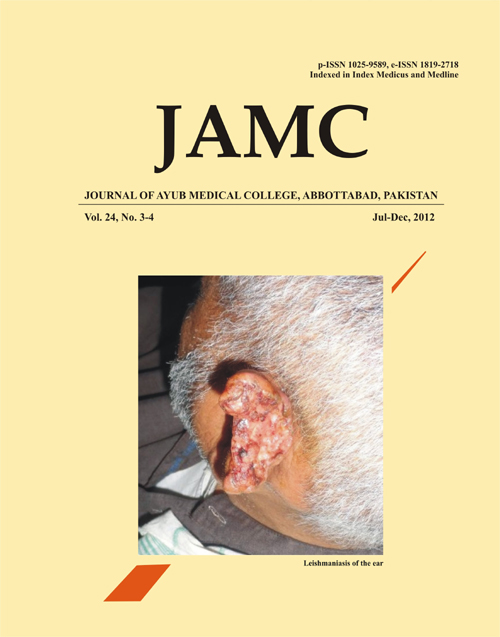 Downloads