DEMOGRAPHICS OF TUBERCULOSIS IN DISTRICT MANSEHRA
Abstract
Background: Tuberculosis is one of the leading causes of morbidity and mortality across the globe. Pakistan is one of the 22 high tuberculosis burden countries of the world sharing more than 80% of the global burden of tuberculosis. Methods: This study was a retrospective case-based study that analyzed secondary data obtained from TB-03 form at the office of the District Tuberculosis Control Officer (DTO), Mansehra. Data was entered into SPSS-20 and analyzed. Results: A total of 625 patients with a mean age of 32.1±19.1 years were registered at the DTO office during the year 2013. Most of the patients were female (57%) as compared to males (43%). The most common treatment outcome was "treatment completed", recorded against 56% of the patients. The proportion of patients declared "cured" at the end of the treatment was 236 (37.8%). There were only 4 (0.64%) cases of treatment failure during 2013. Conclusion: Despite falling incidence of tuberculosis and mortality across the globe, tuberculosis is still a major determinant of disease in our society. Aggressive case detection and treatment is needed to manage this disease. 
References
Iram S, Ali S, Khan SA, Abbasi MA, Anwar SA, Fatima F. TB dots strategy in District Rawalpindi: results and lessons. J Ayub Med Coll Abbottabad. 2011 Dec;23(4):85–7.
World Health Organization. Global tuberculosis report 2013. Geneva, Switzerland: World Health Organization; 2013.
Patra J, Jha P, Rehm J, Suraweera W. Tobacco Smoking, Alcohol Drinking, Diabetes, Low Body Mass Index and the Risk of Self-Reported Symptoms of Active Tuberculosis: Individual Participant Data (IPD) Meta-Analyses of 72,684 Individuals in 14 High Tuberculosis Burden Countries. Pai M, editor. PLos One. 2014;9(5):e96433.
Millet J-P, Moreno A, Fina L, del Baño L, Orcau A, de Olalla PG, et al. Factors that influence current tuberculosis epidemiology. Eur Spine J. 2013;22(S4):539–48.
Sulis G, Roggi A, Matteelli A, Raviglione MC. Tuberculosis: Epidemiology and Control. Mediterr J Hematol Infect Dis. 2014;6(1):e2014070.
National TB Control Program - Pakistan. TB Patients' Declaration on Tuberculosis in Pakistan [Internet]. National TB Control Program - Pakistan. 2014 [cited 2015 Aug 22]. Available from: http://www.ntp.gov.pk/newsDetail.php?nID=24
World Health Organization. Global tuberculosis control: WHO report 2011. Geneva: World Health Organization; 2011.
Fatima R, Harris RJ, Enarson DA, Hinderaker SG, Qadeer E, Ali K, et al. Estimating tuberculosis burden and case detection in Pakistan. Int J Tuberc Lung Dis. 2014;18(1):55–60.
World Health Organization, Stop TB Initiative (World Health Organization), editors. Treatment of tuberculosis: guidelines. 4th ed. Geneva: World Health Organization; 2010. 147 p.
Orlicka K, Barnes E, Culver EL. Prevention of infection caused by immunosuppressive drugs in gastroenterology. The Adv Chronic Dis. 2013 Jul 1;4(4):167–85.
Lioté H. [Tuberculosis, anti-TNF agents and other immunosuppressants: evolution of preventitive strategies]. Rev Mal Respir. 2008;25(10):1237–49.
Narasimhan P, Wood J, MacIntyre CR, Mathai D. Risk Factors for Tuberculosis. Pulmonary Med. 2013;2013:1–11.
Diel R, Loddenkemper R, Zellweger J-P, Sotgiu G, D'Ambrosio L, Centis R, et al. Old ideas to innovate tuberculosis control: preventive treatment to achieve elimination. Eur Respir J. 2013;42(3):785–801.
Thapa B. Smear negative pulmonary tuberculosis and infectivity. Int J Infect Microbiol. 2013;2(3):68–9.
De Muynck A, Siddiqi S, Ghaffar A, Sadiq H. Tuberculosis control in Pakistan: critical analysis of its implementation. J Pak Med Assoc. 2001;51(1):41–7.
Organisation mondiale de la santé. Global tuberculosis report 2014. Geneva: World Health Organization; 2014.
Ma E, Ren L, Wang W, Takahashi H, Wagatsuma Y, Ren Y, et al. Demographic and Socioeconomic Disparity in Knowledge About Tuberculosis in Inner Mongolia, China. J Epidemiol. 2015;25(4):312–20.
Faisal S, Qurat-ul-Ain Ahmad HM, Rifaq F. Socio-demographic factors affecting tuberculosis diagnostic test seeking behavior in Pakistan: a review. Punjab Univ J Zool. 2014;29(2):91–6.
Khan MA, Nazir S, Tahir AH, Khan I, Abbas T, Younus M. Study on human tuberculosis with reference to socio-demographic factors. Punjab Univ J Zool. 2007;22(1-2):57–61.
Tariq S, Rauf A, Malik S, Rashid A. Presentations of tuberculosis in northern Pakistan. J Ayub Med Coll Abbottabad. 2011;23(1):40–2.
Ali M, Bhatti MA, Kuroiwa C. Challenges in access to and utilization of reproductive health care in Pakistan. J Ayub Med Coll Abbottabad. 2008;20(4):3–7.
Ullah S, Shah SH, Aziz-ur-Rehman null, Kamal A, Begum N, Khan G. Extrapulmonary tuberculosis in Lady Reading Hospital Peshawar, NWFP, Pakistan: survey of biopsy results. J Ayub Med Coll Abbottabad. 2008;20(2):43–6.
Ahmad T, Ahmad K. A descriptive study of tuberculosis in Chakdara town, Pakistan. Asian J Natur Appl Sci. 2013;2(3):98–103.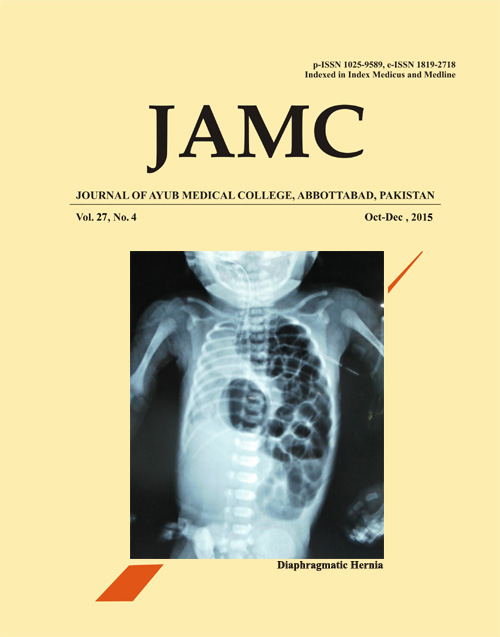 Downloads