STIGMA AND PSYCHIATRIC ILLNESS. A SURVEY OF ATTITUDE OF MEDICAL STUDENTS AND DOCTORS IN LAHORE, PAKISTAN
Abstract
Background: The stigma attached to mental illness in the West is now well recognised. There ishowever, only limited information available on this topic from the developing countries.Measurement of stigma among medical students and doctors is straightforward to carry outallowing targeted work to educate doctors in countries with few resources. This study was carriedout to assess the attitude of medical students and doctors, attending medical colleges in Lahore,Pakistan. Methods: A survey was circulated among the medical students and the doctors of thethree medical colleges in Lahore, Pakistan. 294 (59%) of the 500 survey forms sent out werereturned. Results: Just over half of the respondents held negative attitudes towards people withschizophrenia, depression, drug and alcohol disorders. However, most had favourable views of therecovery and treatability of the mental disorders. Conclusions: The views held by the medicalstudents and the doctors in Lahore, Pakistan are broadly similar to the opinions expressed by themedical students and doctors in the UK.
References
Crisp AH. The stigmatisation of sufferers with mental
disorders. Br J Gen Prac 1997;49:3 -4
Crisp AH, Gelder MG, Rix S. The stigmatisation of
people with mental illness. Br J Psych 2000;177:4 -7
Byrne P. Psychiatric stigma: past, passing and to come.
J Royal Society of Medicine 1997;90:618-21
Link BG, Struening EL, Rahav M. On stigma and its
consequences: evidence from a longitudinal study of
J Ayub Med Coll Abbottabad 2006;18(3)
men with dual diagnosis of mental illness and substance
abuse. J Health Social behaviour 1997;38:177-90
Jorm AF, Jacomb PA, Christensen H. Attitudes towards
people with a mental disorder: a survey of the
Australian public and health professionals. Australian
and Newzeland Journal of Psychiatry 1999;33:77-83
Mukherjee R, Fialho A, Wijetunge K. The
stigmatisation of mental illness: the attitudes of medical
students and doctors in a london teaching hospital 2002;
:178-181
Singh, S., Baxtre, H., Standen, P., et al (1988)
Changing the attitudes of tomorrows doctors towards
mental illness and psychiatry: a comparison of two
teaching methods. Medical education 1988;32:115-22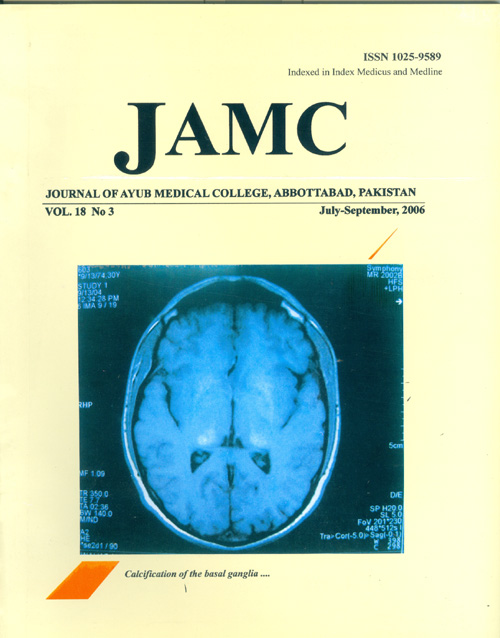 Downloads