CO-RELATION OF DYSPEPSIA WITH UPPER GASTROINTESTINAL PATHOLOGY IN THE NORTHERN AREAS OF PAKISTAN
Abstract
ABSTRACT:This is a trial done over a period of two years, in which 400 patients, with persistent dyspepsiawere endoscoped. The majority of the patients had gastritis. Other disorders found in order offrequency were oesophagitis duodenal ulcer and gastric ulcer. Duodenal ulcer was found to be threetimes more common than gastric ulcer. Carcinoma of oesophagus was found almost twice ascommon as carcinoma of the stomach. About one fifth of the patients has no Pathology. Comparedwith other studies we found that peptic ulcers, carcinoma and gastritis were more common in ourstudy.
References
Jones, R.H., lydeard, S.E., Hobbs, F.D.R., el at. Dyspepsia in England and Scotland. Gut. 1991; 31: 401-
Admani, H.O., Agenas, I., Gustavson, S., et al. The clinical diagnosis of "Gastritis". Scand J. of
Gastroenterology, 1984; 19: 216-19.
Heatly, R.V., Rathbone, B.J. Dyspepsia is dilemma for doctors. Lancet, 1987; ii: 779-82.
Colin-Jones, D.G. Management of dyspepsia: report of a working party. Lancet, 1988; 576-79.
Kazi, J.I., Alam, S.M., Kazi, A.M. et al. Histopathological study of endoscopic biopsies of the stomach.
JPM A, 1988;38:77.
Zuberi, S.J., and Samad, F. Gastroscopy in upper gastrointestinal su, tp, s. JPMA, 1979; 29: 87.
Kreunig, J., Bosman, F.T., Kuiper, G., et al. Gastric and duodenal mucosa in healthy individuals. J. Clin.
Pathol. 1978; 31:69-77.
Akdamar, K., Ertan, A., Grewal, N.M., et al. Upper gastrointestinal endoscopy in normal symptomatic
volunteers. Gastrointestinal Endoscopy. 1986; 32: 78-80.
Saunders, J.B., Oliver, R.J., Higson, D.I. Dyspepsia: Incidence of non-ulcer disease in a controlled trial of
ranitidine in general practice. Br. Med. J. 1986; 292: 665-8.
Jones, R. Upper Gastrointestinal endoscopy a view from general practice. J. Coll. Gen. Pract. 1986; 36: 6-
Shaikh, W.M., Mahar, L., Katpar, K.A. Endoscopic evaluation of patients with dyspepsia. Pak. J. of
Medical Research 1991, Vol. 30; No. 1: 36-38.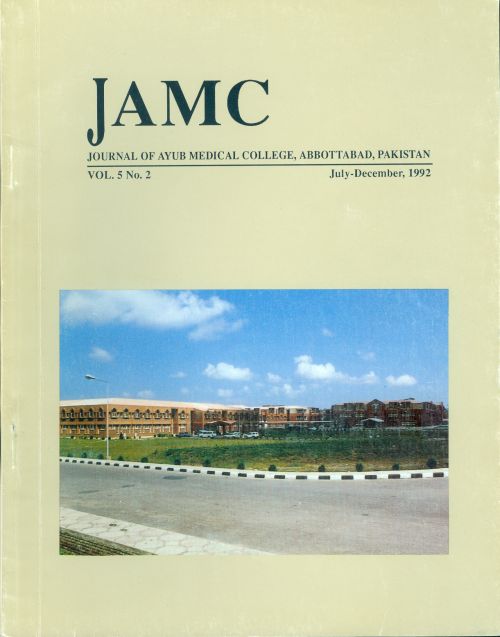 Downloads