SYNERGISTIC EFFECT OF ORAL ALLOPURINOL AND INTRALESIONAL SODIUM STIBOGLUCONATE IN THE TREATMENT OF CUTANEOUS LEISHMANIASIS
Abstract
Background: Leishmaniasis is an endemic disease and a major public health problem throughout the world. Its geographic distribution has been extended over the past few years in Pakistan. The available treatment options of Leishmaniasis are limited and mostly parenteral, and hence a non-toxic oral alternative therapy is urgently needed to overcome the problem. The objective of this study was to evaluate the synergistic effect of Allopurinol as an adjunct therapy along with conventional intra-lesional sodium Stibogluconate in the treatment of cutaneous Leishmaniasis. Methods: This single blinded randomized controlled trial was carried out at the tertiary care hospitals of district Peshawar, Pakistan. A total of one hundred and sixty-four (164) patients of age range from 19–56 years, consisting of both genders were included in this study. All subjects were randomly allocated to Group-1 and Group-2 where each group had 82 patients of comparable age and genders. Group-1 patients were given an intra-lesional injection of sodium Stibogluconate at a dose of 1–5 ml depending on the lesion size, where one ml injection contained 100 mg of the drug. Group-2 patients were given combination therapy of oral Allopurinol (20 mg/kg/day in divided doses) along with the same intra-lesional sodium Stibogluconate dose as group-1 until complete cure of the lesion. Results: Combination therapy of sodium Stibogluconate along with Allopurinol was found superior to sodium Stibogluconate alone in terms of duration of treatment. Group-1, patients who received only sodium Stibogluconate required prolonged treatment duration of 6–9 weeks depending upon the lesion size, while group-2 patients who received combination therapy of sodium Stibogluconate and Allopurinol responded more quickly and their lesions cured in 3–6 weeks depending upon the lesion size. Conclusion: Oral Allopurinol has a synergistic effect when used with intra-lesional sodium Stibogluconate and effectively reduces the treatment duration required for complete cure of cutaneous Leishmaniasis. Treatment duration was reduced by 3 weeks in the present study when combination therapy was given to the patients of cutaneous Leishmaniasis.Keywords: Allopurinol; Cutaneous leishmaniasis; Sodium Stibogluconate; Leishmania 
References
REFERENCES
Dunya G, Habib R, Moukarbel RV, Khalifeh I. Head and neck cutaneous leishmania: clinical characteristics, microscopic features and molecular analysis in a cohort of 168 cases. European Archives of Oto-Rhino-Laryngology. 2016;273(11):3819-26.
Valencia C, Arévalo J, Dujardin JC, Llanos-Cuentas A, Chappuis F, Zimic M. Prediction score for antimony treatment failure in patients with ulcerative leishmaniasis lesions. PLoS neglected tropical diseases. 2012;6(6):e1656.
Bumb R, Prasad N, Khandelwal K, Aara N, Mehta R, Ghiya B, et al. Long‐term efficacy of single‐dose radiofrequency‐induced heat therapy vs. intralesional antimonials for cutaneous leishmaniasis in India. British Journal of Dermatology. 2013;168(5):1114-9.
Jabbour MN, Issa G, Charafeddine K, Simaan Y, Karam M, Khalifeh H, et al. The immune microenvironment in cutaneous leishmaniasis. Journal of the European Academy of Dermatology and Venereology : JEADV. 2015;29(6):1170-9.
Bhutto AM, Soomro RA, Nonaka S, Hashiguchi Y. Detection of new endemic areas of cutaneous leishmaniasis in Pakistan: a 6‐year study. International journal of dermatology. 2003;42(7):543-8.
Leishmaniases WECotCot, Meeting WECotCotL, Organization WH. Control of the Leishmaniases: Report of a WHO Expert Committee: World Health Organization; 1990. [Accessed June 15, 2019]
Aoun J, Habib R, Charaffeddine K, Taraif S, Loya A, Khalifeh I. Caseating granulomas in cutaneous leishmaniasis. PLoS neglected tropical diseases. 2014;8(10):e3255.
Saab J, Fedda F, Khattab R, Yahya L, Loya A, Satti M, et al. Cutaneous leishmaniasis mimicking inflammatory and neoplastic processes: a clinical, histopathological and molecular study of 57 cases. Journal of cutaneous pathology. 2012;39(2):251-62.
Walton BC, Harper III J, Neal RA. Effectiveness of allopurinol against Leishmania braziliensis panamensis in Aotus trivirgatus. The American journal of tropical medicine and hygiene. 1983;32(1):46-50.
Marr J. Purine analogs as chemotherapeutic agents in leishmaniasis and American trypanosomiasis. The Journal of laboratory and clinical medicine. 1991;118(2):111-9.
Shaikh KA, Sharafatullah T, Qazi AA, Karim N. Therapeutic efficacy of Allopurinol (zyloric) in Cutanoues Leishmaniasis. Pakistan Journal of Pharmacology. 2003;20(1):43-7.
Pfaller MA, Marr JJ. Antileishmanial effect of allopurinol. Antimicrob Agents Chemother. 1974;5(5):469-72.
Ejaz A, Qadir NUR, Malik N, Bari AU. Comparison of low-dose meglumine antimoniate/allopurinol combination therapy with full dose meglumine antimoniate alone in the treatment of cutaneous leishmaniasis–A randomized controlled trial. Journal of Pakistan Association of Dermatology. 2016;24(2):108-14.
Martinez S, Gonzalez M, Vernaza M. Treatment of cutaneous leishmaniasis with allopurinol and stibogluconate. Clinical Infectious Diseases. 1997;24(2):165-9.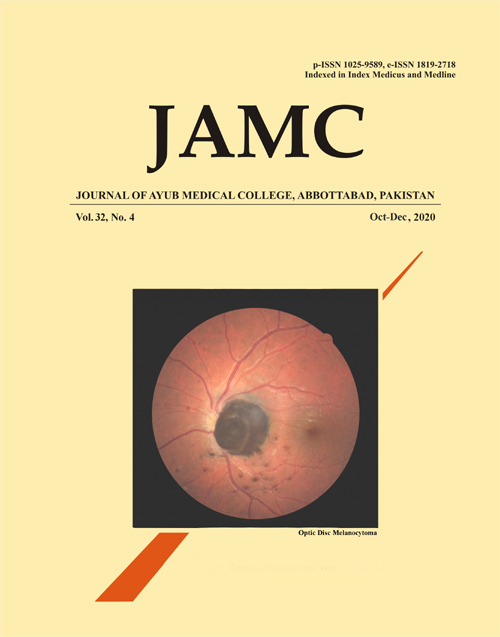 Downloads