COMPARISON OF MANTOUX'S TEST WITH DIAGNOSTIC BCG IN PEDIATRIC PATIENTS WITH PULMONARY TUBERCULOSIS
Abstract
Background: Pulmonary tuberculosis is a common problem in all age groups in our country. Different tests are performed for diagnosis of this disease. This study was carried out with an objective to compare Mantoux's test with diagnostic BCG in pediatric patients known to have pulmonary tuberculosis. Methods: This study was conducted on one hundred children of either sex, age upto 15 years, suffering form pulmonary tuberculosis. Mantoux's test and diagnostic BCG test were carried out on each patient simultaneously. Response of the patient to each test was recorded on a proforma. Both the tests were compared regarding their positivity. Results: Both Mantoux's and BCG tests were found  negative in about 26% cases, and positive in about 40% cases. BCG alone was positive in 34% cases in which Mantoux's test was negative. Conclusion: It is concluded that in paediatric age group, diagnostic BCG test has a definite edge over Mantoux's test in diagnosis of tuberculosis.Keywords: Mantoux, BCG, Pulmonary Tuberculosis
References
Bokhari SNH. Accelerated BCG response: Diagnotic value in adults in an endemic area. Spectrum 1999;15: 181-4
WHO expert committee on Tuberculosis 81st report. WHO Technical report series 290. Geneva: WHO ;1964.
Imran M. BCG a diagnostic tool in childhood tuberculosis. J Postgrad Med Inst 1987;2:181-3.
Udani PM. Tuberculosis in children. Pediatr Clin India. 1983;18:143-56
Eksilski SD. BCG vaccination and PPD test: what the clinicians need to know? J Ram Prost 1995;40:76-80.
Beguin T, Khattak AA, Khan FM. Tuberculosis a major threat to child health Pak Pediatr J 1999;3:28-30.
Datta T, Sen K. BCG versus tuberculin test in diagnosis of childhood tuberculosis. Indian pediatr 1982;19:141-6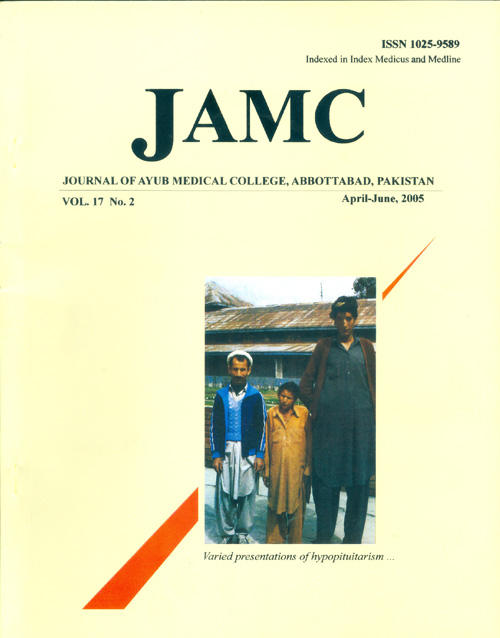 Downloads