RATIONAL PRESCRIPTION OF MEDICINES-A STUDY OF INDOOR PATIENTS AT A TERTIARY CARE HOSPITAL
Abstract
Background: A study was conducted at Ayub Teaching Hospital, Abbottabad. a tertiary hospital, to know whetherdrugs are prescribed rationally Keeping in mind indications, interactions, contraindications, proper dosage andeconomy of the patient. Methods: The stud was a descriptive case study Records id 200 patients admitted in variousunits of the hospital were analysed by a panel of pharmacologists and conclusions drawn. Results: It was found thatonly 52% of patients receive prescriptions that v\ere rationale in all aspects. Where as in rest of the patients therationale could be challenged. Conclusion: This study stresses the need for more concentrated and dedicated efforttowards prescription of medicines.
References
Ahmad M Rationale Therapeutic. Fazelesson 1991, 1 2-
Davis M. S. Variation in patient's compliance with
doctors' advice. An empirical analysis of pattern of
communication Amer. J Public Health, 58 274 -288
(Feb 1968)
Boyd, JR Covington, TR Stanaszek, W.F., and
coussson R.T. Drug Defaulting Part 1 Determinants of
Compliance. Amer J Hospital Pharm 31 362-367 (Apr),
Ahmad SR, Bitter facts about drugs HAI Pakistan (99)
-6.
Monica E, Baly, Professional Responsibility in
Community Health Services HM&M 1975, 36-37.
News and Views. Pharmacist Curb Drugs errors, JAMC
(H), 54-55.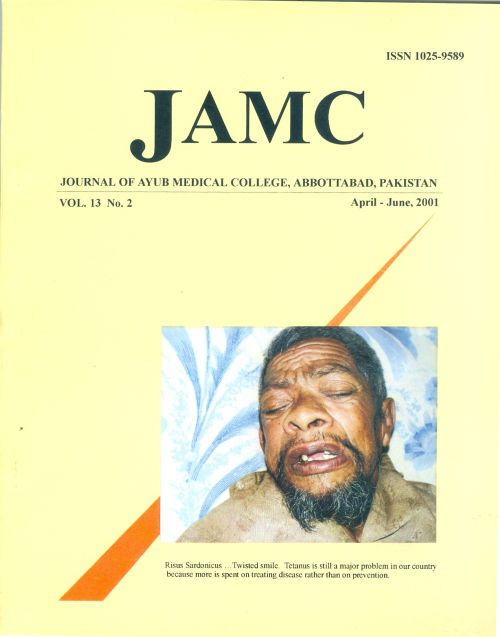 Downloads