DETERMINANTS OF EATING HABITS AND PHYSICAL ACTIVITY AMONG FEMALE STUDENTS OF GOVERNMENT SCHOOLS OF URBAN CITY OF PAKISTAN
Abstract
Background: Obesity is constantly increasing among adolescents since the last few decades becoming an alarming situation worldwide. The objective of this study was to know the determinants of eating habits and physical activities among school-going female adolescents of public sectors schools of Rawalpindi Pakistan. Methods: A cross sectional study with mixed method with both quantitative and qualitative approach was conducted on three public sector schools of Rawalpindi Pakistan. Sample size of 384 female students of grade 5–10 were interviewed on reliable and validated tool after taking their consent and ethically approval. Moreover, four focus group discussion (FGD) with 30–45 minutes spent on each were conducted by inviting 6-8 participants in each group. Qualitative findings were triangulated with quantitative results. Study was ethically approved from the institutional review board of Health Services Academy Islamabad Pakistan. Results: Females schools' students were included in this study were 384 with mean (SD) age 11.9±1 year. Majority (38%) were of class 7th and their mothers (42%) were educated. Mostly (42%) students were obese (53%) eat the vegetables rarely in their diet. Above half (59%) were those students who eat deep fried potato chips daily. There was a significance difference were seen among normal and obese female students regarding the dietary habits in different class of enrolment (<0.001), mother's education (0.04), intake of sweat confectionary (0.01), intake of meat (0.00), junk food (0.00), use of energy drink (0.03), use of milk (0.02), physical activity (0.00) and play games (0.00). However, intake of vegetables (0.23) and mother's education (0.081) were found insignificant in this study. Majority (88.5%) of students were also playing games in their daily activity. Below half (44%) respondents used to involve in physical activity. Qualitative findings triangulate with quantitative findings and themes were generated like;awareness on healthy diet, eating junk food, dislikes vegetables in diet and physical activity. Conclusion: Study concluded the factors including student's age, mother's education, intake of junk food, physical activity and play games are associated with obesity among the female students of government school in urban area of the country.Keywords: Eating habits; determinants; physical activity; Female students; adolescent; active games and exercise
References
Christian P, Smith ER. Adolescent Undernutrition: Global Burden, Physiology, and Nutritional Risks. Ann Nutr Metab 2018;72(4):316–28.
Davis CR, Bryan J, Hodgson JM, Wilson C, Dhillon V, Murphy KJ. A randomised controlled intervention trial evaluating the efficacy of an Australianised Mediterranean diet compared to the habitual Australian diet on cognitive function, psychological wellbeing and cardiovascular health in healthy older adults (MedLey study): protocol paper. BMC Nutr 2015;1(1):35.
Yannakoulia M, Lykou A, Kastorini CM, Papasaranti ES, Petralias A, Veloudaki A, et al. Socio-economic and lifestyle parameters associated with diet quality of children and adolescents using classification and regression tree analysis: The DIATROFI study. Public Health Nutr 2016;19(2):339–47.
Frayon S, Cherrier S, Cavaloc Y, Touitou A, Zongo P, Wattelez G, et al. Nutrition behaviors and sociodemographic factors associated with overweight in the multi-ethnic adolescents of New Caledonia. Ethn Heal 2019;24(2):194–210.
McKay J, Ho S, Jane M, Pal S. Overweight & obese Australian adults and micronutrient deficiency. BMC Nutr 2020;6(1):12.
Hilger J, Loerbroks A, Diehl K. Eating behaviour of university students in Germany: Dietary intake, barriers to healthy eating and changes in eating behaviour since the time of matriculation. Appetite 2017;109:100–7.
Pearson N, Griffiths P, Biddle SJH, Johnston JP, Haycraft E. Individual, behavioural and home environmental factors associated with eating behaviours in young adolescents. Appetite 2017;112:35–43.
Majabadi HA, Solhi M, Montazeri A, Shojaeizadeh D, Nejat S, Farahani FK, et al. Factors influencing fast-food consumption among adolescents in Tehran: A qualitative study. Iran Red Crescent Med J 2016;18(3):7–9.
Thaher LM, Alasad J, Maharmeh M, Salami I. Prevalence of Obesity and Knowledge of Health Risk Associated with Obesity among Female Adolescents in Jordan. Open J Nurs 2018;8(1):60–8.
Moreno LA, Rodríguez G, Fleta J, Bueno-Lozano M, Lázaro A, Bueno G. Trends of dietary habits in adolescents. Crit Rev Food Sci Nutr 2010;50(2):106–12.
Prabsangob K, Somrongthong R, Kumar R. Effectiveness of Self-Help Group Program for the Management of Type-2 Diabetes Patients in Rural Thailand. Pak J Nutr 2019;18(2):141–5.
Kim SY, Sim S, Park B, Kong IG, Kim JH, Choi HG. Dietary habits are associated with school performance in adolescents. Medicine (Baltimore) 2016;95(12):e3096.
Cureau F V, Sparrenberger K, Bloch K V, Ekelund U, Schaan BD. Associations of multiple unhealthy lifestyle behaviors with overweight/obesity and abdominal obesity among Brazilian adolescents: A country-wide survey. Nutr Metab Cardiovasc Dis 2018;28(7):765–74.
Guthold R, Stevens GA, Riley LM, Bull FC. Global trends in insufficient physical activity among adolescents: a pooled analysis of 298 population-based surveys with 1·6 million participants. Lancet Child Adolesc Healh 2020;4(1):23–35.
Sand O, Kumar R, Shaikh TS, Somrogthong R, Hafeez A. Determinants of severe acute malnutrition among children under five years in a rural remote setting: A hospital based study from district Tharparkar-Sindh, Pakistan. Pak J Med Sci 2018;34(2):260–5.
Gill FN, Majeed A, Qureshi Z, Khan KA, Khan MA. An Assessment of Adolescent Eating Habits in Public Schools of Chak Shahzad, Islamabad. Int J Nutr Food Sci 2016;5(4):304–9.
Qureshi MF, Rathore A, Seerani N, Qureshi S, Faisal B, Kumar R. Nutritional status among primary school going children living in urban area of Sindh Pakistan. Pak J Public Health 2017;7(1):62–5.
Zahra J, Ford T, Jodrell D. Cross-sectional survey of daily junk food consumption, irregular eating, mental and physical health and parenting style of British secondary school children. Child Care Health Dev 2014;40(4):481–91.
Talagala IA, Arambepola C. Use of food labels by adolescents to make healthier choices on snacks: A cross-sectional study from Sri Lanka. BMC Public Health 2016;16(739):1–11.
Chawla N, Panza A, Sirikulchayanonta C, Kumar R, Taneepanichskul T. Effectiveness of a School-based Multicomponent Intervention on Children Nutritional Status among Primary School Children in Bangkok, Thailand. J Ayub Med Coll Abbotabad 2017;29(1):13–20.
Kirkpatrick S, Vanderlee L, Raffoul A, Stapleton J, Czismadi I, Boucher BA, et al. Self-Report Dietary Assessment Tools Used in Canadian Research: A Scoping Review. Adv Nutr 2017;8(3):276–89.
Tremblay MS, Carson V, Chaput JP, Gorber SC, Dinh T, Duggan M, et al. Canadian 24-Hour Movement Guidelines for Children and Youth: An Integration of Physical Activity, Sedentary Behaviour, and Sleep. Appl Physiol Nutr Metab 2016;41(6 Suppl 3):S311–27.
Fletcher G, Eves FF, Glover EI, Robinson SL, Vernooij CA, Thompson JL, et al. Dietary intake is independently associated with the maximal capacity for fat oxidation during exercise. Am J Clin Nutr 2017;105(4):864–72.
Syvä Oja HJ, Tammelin TH, Ahonen T, Kankaanpä ÄA, Kantomaa MT. The Associations of Objectively Measured Physical Activity and Sedentary Time with Cognitive Functions in School-Aged Children. PLoS One 2014;9(7):e103559.
LaCaille LJ, Dauner KN, Krambeer RJ, Pedersen J. Psychosocial and environmental determinants of eating behaviors, physical activity, and weight change among college students: a qualitative analysis. J Am Coll Health 2011;59(6):531–8.
Cartagena RS. Are the foods and drinks in your school canteen healthy? An Assessment of the Nutritional Value of the Foods and Drinks sold at the School Canteens of De La Salle Araneta University. DLSU Research Congress 2014.
Tanzil S, Jamali T. Obesity, An Emerging Epidemic In Pakistan-A Review of evidence. J Ayub Med Coll Abbottabad 2016;28(3):597–600.
Gigantesco A, Giuliani M. Quality of life in mental health services with a focus on psychiatric rehabilitation practice. Ann Ist Super Sanità 2011;47(4):363–72.
Badr HE, Lakha SF, Pennefather P. Differences in physical activity, eating habits and risk of obesity among Kuwaiti adolescent boys and girls: A population-based study. Int J Adolesc Med Health 2019;31(1):1–9.
Ford ND, Jaacks LM, Martorell R, Mehta NK, Perrine CG, Ramirez-Zea M, et al. Dietary patterns and cardio-metabolic risk in a population of Guatemalan young adults. BMC Nutr 2017;3(1):68.
Weihrauch-Blüher S, Schwarz P, Klusmann JH. Childhood obesity: increased risk for cardiometabolic disease and cancer in adulthood. Metabolism. 2019;92:147–52.
Wade KH, Kramer MS, Oken E, Timpson NJ, Skugarevsky O, Patel R, et al. Prospective associations between problematic eating attitudes in midchildhood and the future onset of adolescent obesity and high blood pressure. Am J Clin Nutr 2017;105(2):306–12.
Anari R, Amani R, Latifi SM, Veissi M, Shahbazian H. Association of obesity with hypertension and dyslipidemia in type 2 diabetes mellitus subjects. Diabetes Metab Syndr Clin Res Rev 2017;11(1):37–41.
Almeida-De-Souza J, Santos R, Barros R, Abreu S, Moreira C, Lopes L, et al. Dietary inflammatory index and inflammatory biomarkers in adolescents from LabMed physical activity study. Eur J Clin Nutr 2018;72(5):710–9.
Jacob L, Stubbs B, Koyanagi A. Consumption of carbonated soft drinks and suicide attempts among 105,061 adolescents aged 12–15 years from 6 high-income, 22 middle-income, and 4 low-income countries. Clin Nutr 2020;39(3):886–92.
He Y, Tian J, Oddy WH, Dwyer T, Venn AJ. Association of childhood obesity with female infertility in adulthood: a 25-year follow-up study. Fertil Steril 2018;110(4):596–604.
Choudhary K, Mathur P, Garg M, Gupta PP, Choudhary K. Prevalence of overweight and obesity amongst adolescents and identification of risk factors. Int J Contemp Pediatr 2017;4(4):1153.
Kim GH, Shin SW, Lee J, Hwang JH, Park SW, Moon JS, et al. Red meat and chicken consumption and its association with high blood pressure and obesity in South Korean children and adolescents: a cross-sectional analysis of KSHES, 2011-2015. Nutr J 2017;16(1):31.
Javaid A, Munir S, Naureen A. The prevalence of risk factors associated with obesity of school going females in Lahore, Pakistan. Asian J Multidiscip Stud 2018;6(7):65–8.
Hussain Z, Mehmood S, Hussain B, Ali I, Afzal S. Prevalence of Obesity on Gender Base at Gilgit City, Pakistan. Adv Obesity, Weight Manag Control. Adv Obes Weight Manag Control 2017;6(2):00149.
Black MM, Walker SP, Fernald LC, Andersen CT, DiGirolamo AM, Lu C, et al. Early childhood development coming of age: science through the life course. Lancet 2017;389(10064):77–90.
Carson V, Hunter S, Kuzik N, Gray CE, Poitras VJ, Chaput J, et al. Systematic review of sedentary behaviour and health indicators in school-aged children and youth: an update. Appl Physiol Nutr Metab 2016;41(6 Suppl 3):240–65.
Głąbska D, Jusińska M. Analysis of the choice of food products and the energy value of diets of female middle- and long- distance runners, depending on the self-assessment of their nutritional habits. Rocz Panstw Zakl Hig 2018;69(2):155–63.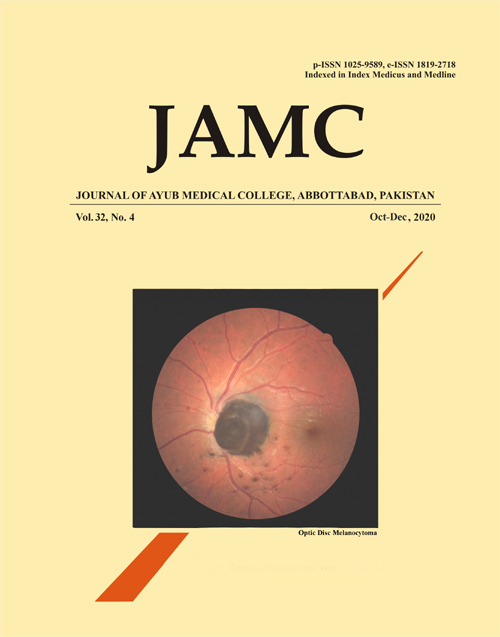 License
Journal of Ayub Medical College, Abbottabad is an OPEN ACCESS JOURNAL which means that all content is FREELY available without charge to all users whether registered with the journal or not. The work published by J Ayub Med Coll Abbottabad is licensed and distributed under the creative commons License  CC BY ND Attribution-NoDerivs. Material printed in this journal is OPEN to access, and are FREE for use in academic and research work with proper citation. J Ayub Med Coll Abbottabad accepts only original material for publication with the understanding that except for abstracts, no part of the data has been published or will be submitted for publication elsewhere before appearing in J Ayub Med Coll Abbottabad. The Editorial Board of J Ayub Med Coll Abbottabad makes every effort to ensure the accuracy and authenticity of material printed in J Ayub Med Coll Abbottabad. However, conclusions and statements expressed are views of the authors and do not reflect the opinion/policy of J Ayub Med Coll Abbottabad or the Editorial Board.
USERS are allowed to read, download, copy, distribute, print, search, or link to the full texts of the articles, or use them for any other lawful purpose, without asking prior permission from the publisher or the author. This is in accordance with the BOAI definition of open access.
AUTHORS retain the rights of free downloading/unlimited e-print of full text and sharing/disseminating the article without any restriction, by any means including twitter, scholarly collaboration networks such as ResearchGate, Academia.eu, and social media sites such as Twitter, LinkedIn, Google Scholar and any other professional or academic networking site.