STILL BIRTH RATE IN DISTRICT HEAD QUARTER HOSPITAL ABBOTT AB AD
Abstract
Abstract: This retrospective study was done at District HeadquarterHospital, Abbottabad. The prevalence of still birth was studied among 853infants born in maternity ward of DHQ Hospital, Abbottabad during twoand a half years. The still birth rate observed was 112.5/1000. The ratewas higher among multigravida and in females of more than 35 years' age.The prominent etiological factors were multi-parity prolonged andobstructed labour and antepartum haemorrhag
References
Amin, F.R. Iodine deficiency diseases in northern areas. The Daily DAWN
Friday October 23, 1987.
World Health Organization Expert Committee on health statistics, report on the
second session, Geneva, WHO. Tech. Rep. Ser. 18-21 April, 1950; 25:1.
Rehan, N. Still Birth in Hausa Community. JPMA. 1982; 32: 93-99.
Awan, A.K. and Mobasher, M. Age difference between spouses and pregnancy
wastage. JPMA. 1975; 25: 46.
Seluin, S. and Gorfinkel, J. Paternal age, maternal age and birth order and risk
of a fetal loss. Hum. Biol. 1976; 48: 223.
Clayton. S.G., Lewis, T.L.T. and Pinker, G. Vital Statistics. In: Obstetrics ed. 13.
Butler — Tamen Ltd Frome and London. 1980; 523-529.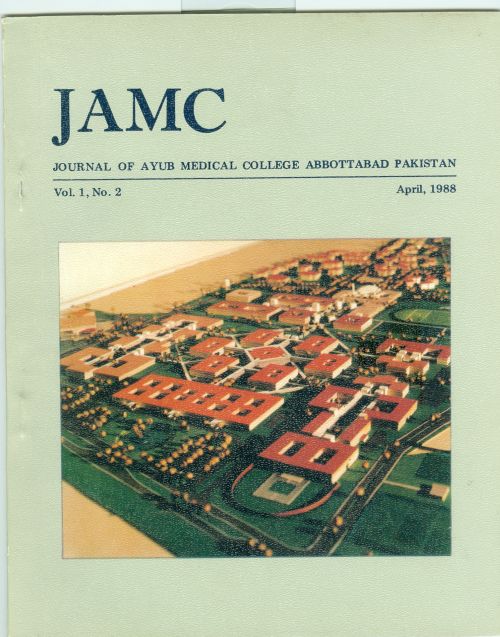 Downloads